Hello friend! Happy 2017!! I hope the first week of your New Year has been off to a fabulous start. I've spent the week getting ready for the next couple of months by scheduling some sweet cooking classes and getting ready to run another Reset Yourself Nutrition Challenge to help you start off the fall empowered to care for your body, mind, and soul.
I'm not usually one to get philosophical… well not ALL the time anyway… but I have been going through the past year of my life and work and it's been incredible to see the successes and growth I've experienced over the last 12 months.
I've run four incredible Warrior Women's Wellness Weekends, three Nourish Yourself Day Retreats, so many awesome cooking classes, taught tons of yoga, and best of all I've created community and connection with such an incredible group of women (and a few men!) that sometimes I have to pinch myself to see if this is actually real life.
Since the main purpose of my work is to make your healthy living goals as easy and delicious as possible, I thought I'd start off the New Year by sharing a recipe for a super simple, yet oh-so-scrumptious, gluten-free granola recipe! 
If you know me at all, you know I am OBSESSED with all things ginger. In fact I'm drinking some ginger kombucha and have a pot of ginger tea on the stove as I write this. I think it just adds such a punch of sweet/spicy flavour to everything, which makes it the perfect addition to this granola recipe.
This recipe is super easy and in order to save time in the kitchen you can use your skills to batch cook a large amount all at once. It stores really well in airtight mason jars in the cupboard once it has cooled fully so you can make a ton to last you ages. I find batch cooking one of the best tools at your disposal when it comes to making healthy eating a breeze.
If you want to make this recipe completely grain-free you can easily swap out the gluten-free oats for coconut chips and/or extra nuts and seeds. It's got a great balance of healthy proteins and fats from the different nuts and seeds. And the coconut oil adds some awesome fat-burning and energy-fuelling power.
The cinnamon will help ensure your blood sugar stays stable, while the ginger can aid in digestion, making this granola a perfect way to fuel your day!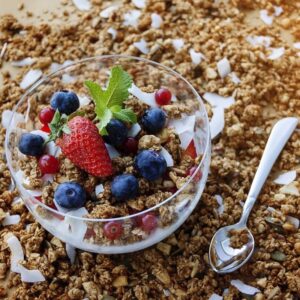 Gluten-Free Ginger Spice Granola Recipe
This recipe is packed with flavour and makes a perfect addition to your morning yogurt or smoothie bowls!
Ingredients
1

cup

rolled oats

1

cup

nuts

chopped (pecans, walnuts, and/or almonds)

1/2

cup

mixed seeds—hemp

sunflower, pumpkin

1/2

cup

large coconut flakes

1

tbsp.

cinnamon

½

tsp.

allspice

½

tsp.

nutmeg

½

cup

candied ginger

chopped

2-4

tbsp.

maple syrup

2

tbsp.

coconut oil

1

tsp.

vanilla

pinch

of sea salt
Instructions
Preheat oven to 350F.

Line a large baking sheet with parchment paper and set aside.

In a large mixing bowl combine all ingredients by hand. It will be a little messy, but that's ok! The heat from your hands will melt the coconut oil to ensure it coats all ingredients.

Once combined place on baking sheet and put into oven for 10 minutes until granola starts to turn golden brown.

Remove from oven, stir mixture, and replace for another 10-15 minutes until desired crispiness is achieved. The granola will continue to crisp once it cools.

Remove from oven and allow to cool fully before storing in an airtight mason jar.
Well friend, that's our deliciously easy, nutrient-rich, batch-cooked granola. It's the perfect topping for yogurt or eaten by the handful.
Well friend, that's my recipe for today! I hope you enjoy it. And remember, if you need any extra support to help you feel strong and healthy, you can download my FREE Anti-Inflammatory Meal Plan & Shopping List right here! 
As always, thank you for your love and support. Please stay safe and take care of one another!
Cait xo