PLANT POWERED NUTRITION FOR BALANCED ENERGY COOKING CLASS
Are you looking to incorporate more plant-based meals and vegan recipes into your diet, but are unsure how to make food that is satisfying and covers all your nutritional needs?
I've put together a delicious vegetarian cooking class that teaches you all about great sources of plant protein, how to properly combine proteins, fats, and carbohydrates to stay satiated, how to jazz up your basic quinoa cooking process, and even how to sneak veggies into your desserts.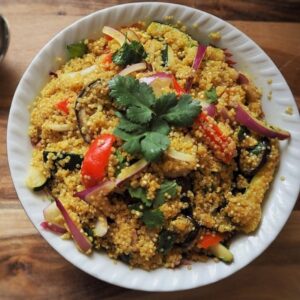 In this vegetarian cooking class you will be making:
• Seasonal Lemony Garlic Quinoa Salad
•  Crispy Roasted Tofu Bites
• Citrus Love Vinaigrette
• Chewy Double Chocolate Fudge Cookies
Specifics: This plant-based online cooking class takes place via Zoom and runs for about 90 minutes. You will be guided through each recipe & sent a recipe guide, shopping list, and equipment list along with any pre-class prep required! A recording of the class will be sent out the next day if you can't join us live (or just want to watch it again!).
Location: Your own kitchen!
Date: Thursday, April 8th 2021
Time: 6:00pm ADT
Investment: $15/pp + tax or sign up for Plant Powered Nutrition + Seasonal Spring Recipes for $25!! (Save $5!)