Hello friend! I hope you're having a beautiful summer! I just got home from about two weeks of adventuring around and I am so happy to be getting back into my routine!
I had an awesome time in Hubbards, NS at a family reunion where I played around on a SUP, went boating, had bonfires, and a went out dancing at the infamous Shore Club. Then it was up to Sault Ste. Marie to head out to rural Ontario to spend a week on Lake Huron with some of my favourite people. We ate delicious food, swam constantly, went boating, read books, had naps, did yoga, played board games, watched Lord of the Rings for the 1000th time, and explored the woods. It was so rejuvenating and the week I look forward to most all year.
Finally, one of my best friends came out from Saskatchewan (she's actually my assistant at my Nourish Yourself Weekend Retreats!) and we spent a week exploring my own neck of the woods. I finally made it over to Grand Manan Island, which was incredible and I saw so many whales for the first time ever! We spent a couple days eating seafood, hiking, going to the beach, and taking in the unreal sunsets.
She just left yesterday and I'm finally getting back into my routine, which means it's time to bring in some fermented foods to help support my tummy after a couple of weeks of a little more sugar and treats than usual.
I absolutely love fermented foods because as more research is done, we are learning how they not only support your digestive tract, but also your immune and nervous systems and can also help with weight and cravings management!
I'm obsessed with learning about the microbiome and different ways to help support this community of beneficial bacteria, and one of the best ways to do so is by eating delicious probiotic-rich foods like this yogurt.
I know fermentation can be a little scary, so this recipe is designed to be as easy-breezy as possible. It takes about 10 minutes and then the next morning you'll have a delicious yogurt you can use in any way you like! Check it out below!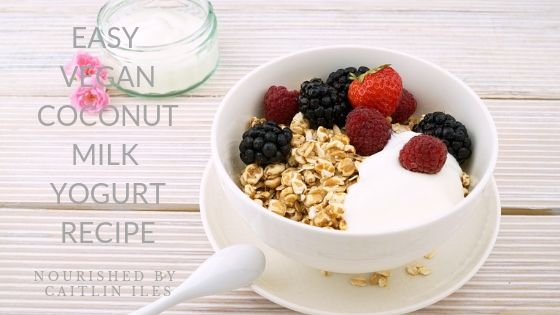 Easy Vegan Coconut Milk Yogurt Recipe
This recipe is a super easy and delicious way to make your own dairy-free yogurt, right on your countertop in 24 hours!
Keyword:
Healthy Vegan Coconut Milk Yogurt
Ingredients
2

cups

coconut milk

Real Thai or Aroy-D brands

1

tbsp.

maple syrup

2

tbsp.

tapioca flour/starch

or 1 tbsp. gelatin for non-vegan option

4

probiotic capsules

lactobacillus & bifido bactera (Natural Factors)* see notes

6

tbsp.

collagen

optional and NOT vegan
Instructions
Add coconut milk & maple syrup to a small saucepan and whisk together.

Bring coconut milk & maple syrup to a gentle simmer (it will lightly steam, but not bubble) on the stove and stir in 2 tbsp. tapioca starch or 1 tbsp. gelatin. Remove from heat and allow to cool to room temperature.

Break open probiotic capsules and stir into coconut milk mixture. Once you've made a couple batches you can save a little bit from the previous batch and use that as your starter instead of the probiotic capsules.

Pour mixture into a 500ml mason jar and lightly seal. Place a piece of parchment between the lid and the jar before closing.

Place in the oven with the light on overnight for approximately 12 hours. I will also leave the jar at the back of my stovetop between the elements and allow the ambient heat from my cooking to help the fermentation process.    

Test in the morning. It's done when slightly curdled and fragrant. Depending on temperature
I have left it out for anywhere from 12-36 hours.

Stir until smooth and refrigerate. Always use a clean utensil when taking yogurt out of the jar to prevent mold from growing.
Well friend, that's the delicious new recipe for today! I hope you enjoy playing around with this easy-peasy fermentation recipe.