Hello friend! I hope you're feeling safe and well! I've been on a recipe creation kick lately, with a very strong focus on baking. These creations have been delicious, but it's probably time for me to take a break from eating an entire cake every couple of days hehe.
So today my recipe is on the savoury side of things: Confit Garlic Aioli! I have been using this as a dip for basically everything I eat and have even used it as a base for a Creamy Arugula Pesto (get the recipe here!!) coming next week!
Most mayos and aiolis are made with rancid vegetable oils, which can increase body-wide inflammation and exacerbate health issues. This aioli uses avocado oil, which is a healthful mono-unsaturated fatty acid with a high smoke point to ensure that your condiments are as healthy and delicious as possible.
Garlic is also packed with antioxidants. nutrients, and detoxifying sulfur compounds that support liver function. So in addition to tasting absolutely amazing, this aioli will help satiate you while supporting your body's natural detoxification pathways. 
Let's get to it, shall we?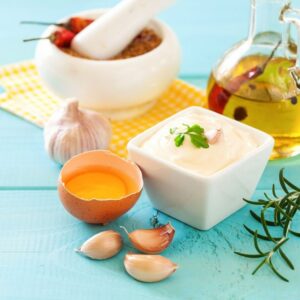 Easy Confit Garlic Aioli Recipe
This recipe is a healthy & delicious twist on a classic mayo. By infusing the olive or avocado oil with garlic & adding the confit garlic to the final product you get a rich, flavourful sauce that can be used as a spread or as a base for dips and dressings.
Ingredients
1

bulb

garlic, peeled

use the whole bulb, not just one clove!

1

cup

light olive oil or avocado oil

1

egg

1/4

cup

light olive oil or avocado oil

1.5

tsp.

mustard powder

1/4

tsp.

sea salt

1/2

lemon

juice and zest
Instructions
Place garlic and 1 cup of olive or avocado oil in a small saucepan over low heat.

After a few minutes you should see small, slow bubbles start to make their way to the surface of the oil. Keep at this temperature for 45 minutes or so. You want the garlic to turn really soft and a light, delicate brown.

Poke the garlic with a fork. When it slides through easily, it's ready to take off the stove.

Remove from heat and let cool. I will often make the oil in the evening and let it cool overnight.

Once the oil is cooled, separate the garlic and oil. I just spoon out most of the cloves and place them in a small dish.

Next add the egg, the remaining 1/4 cup oil, mustard powder, & sea salt to a bowl and whisk together until fully incorporated.

Add the lemon juice and whisk again.

Options: For a more flavourful aioli you can add as much of the confit garlic as you'd like. For a subtle flavour just use the infused oil.

If using, add the garlic cloves to the egg mixture. Grab your immersion blender and put on low. Slowly drizzle in the infused oil until it is fully incorporated with the egg mixture. It should create a fluffy texture with no visible separation of oil.

Place in the fridge to set. Enjoy!
Recipe Notes
This aioli lasts about a 10 days in the fridge. 
Well friend, that's my recipe for today! I hope you enjoy it. And I just published a great little guide with my Top Ten Tips to Banish Belly Bloat, which you can download right here!
As always, thank you for your love and support. Please stay safe and take care of one another!
Cait xo