SEASONAL TRANSITIONS: SPRING SUPPORT COOKING CLASS
With the cold dreariness of winter slowly fading from your memory, it's time to start turning your attention towards Spring and the fresh, delicious food it has to offer!
This cooking class will focus on seasonal produce that's designed to help support your detoxification organs, so that you can enter into the new season digesting like a champ and full of energy! Each recipe is designed to be pulled together quickly and easily so that you can spend more time in the sunshine and less in the kitchen!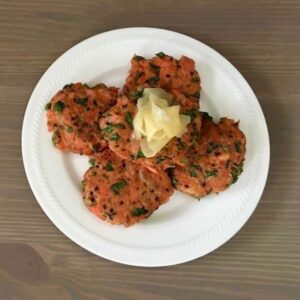 In this pescatarian cooking class you will learn how to make:
• Spicy Sesame Salmon Burger 
•  Avocado Ginger Lime Dressing
• Summer Berry Detox Salad w/ Lemon Roasted Broccoli
• Grapefruit Balsamic Vinaigrette
Specifics: This plant-based online cooking class takes place on Zoom and runs for about 90 minutes. You will be guided through each recipe & sent a recipe guide, shopping list, and equipment list along with any pre-class prep required! A recording of the class will be sent out the next day if you can't join us live (or just want to watch it again!).
Location: Your Own Kitchen! 
Date: Thursday, April 15th, 2021
Time: 6:00pm ADT
Investment: $15/pp + tax or sign up for Plant Powered Nutrition + Seasonal Spring Recipes for $25!! (Save $5!)