Hi friend! I hope you had a wonderful weekend. Today I'm going to share a riff off the Maple Jalapeño Sauerkraut recipe I posted a few weeks back, only this time you'll be using red onions for an extra kick of awesome. I've made this recipe with both red and green cabbage and it turns out delicious either way, so feel free to get creative. Adding fermented foods to your meals is a super cheap and effective way to incorporate probiotics into your diet.

These helpful bacteria are the key to ensuring proper digestions and absorption of nutrients, which means less gas and bloating and more gorgeous glowing skin. They also play a key role in maintaining the integrity of your digestive tract so you can avoid leaky gut and maintain a super-powered immune system.
Some other great sources of dietary probiotics include kombucha, kefir, fermented sauces, yogurts, or lacto-fermented veggies. Try adding a small serving to at least one meal a day to reap the many benefits!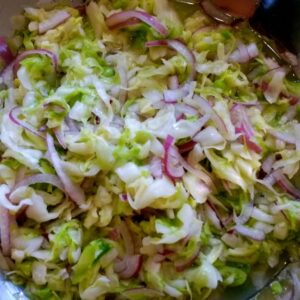 Super Simple Red Onion Sauerkraut Recipe
This recipe takes 15 minutes to prepare and create the most delicious sauerkraut around by combining the brightness of red onion with crisp green cabbage.
Keyword:
Super Simple Red Onion Sauerkraut Recipe
Ingredients
1

small

head cabbage (once chopped it makes A LOT)

1.5

tbsp.

sea salt

1

med.

red onion
Instructions
Finely shred or chop cabbage, retaining one unchopped leaf from the outside.

Trim the top end off the red onion (not the root end with the stringy hairs) and cut in half. Peel and then thinly chop into half moon shapes.

Add to a large metal mixing bowl and sprinkle with the sea salt.

Lightly toss to coat cabbage and onion, giving the occasional squeeze.

Let sit 15 to 20 minutes or until water leaches out of cabbage.

Firmly massage cabbage for 3 minutes, squeezing out water until you have a good amount of liquid in the bowl.

Press into a 1 litre mason jar and use the leaf you saved to push the kraut below the brine so that it stays submerged. If you don't have enough brine to cover the cabbage, add a little bit of water until covered. You may want to place a small weight or clean rock on top of the cabbage leaf to keep it submerged.

Place a piece of parchment paper between the jar and lid and seal.

Let ferment 5-28 days. Move to the fridge once fermentation is complete and always use a clean utensil when taking kraut out of the jar.
Well, that's our recipe for today! I hope you enjoy it!
And if you're looking for some more plant-based inspiration in the kitchen you can try out my FREE Build Your Own Buddha Bowl Cooking Class right here! You'll receive a recipe guide, shopping list, & equipment list plus a demo on how to make Turmeric Coconut Rice, Glory Bowl Dressing, & Sweet & Salty Roasted Chickpeas. Get the class here!
As always, thank you for your love and support. Please stay safe and take care of one another!
Cait xo