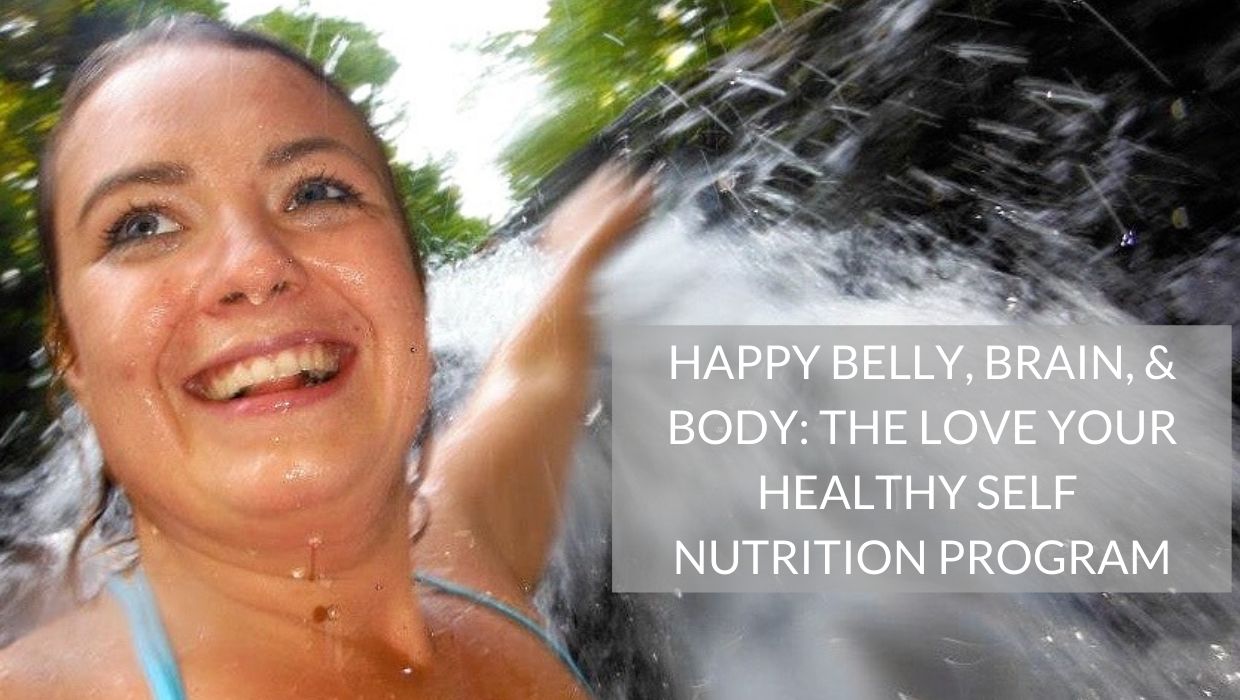 Join my Happy Belly, Brain, & Body: Love Your Healthy Self Nutrition Program!
Member of The Academy of Naturopaths & Naturotherapists of Canada. Now offering receipts for all N.B., Quebec, P.E.I, & Newfoundland Health Insurance Providers except Blue Cross & Industrial Alliance
Do you wake up in the morning still exhausted even though you've had 8+ hours of sleep?
Do you suffer from bloating, gas, or indigestion after most meals?
Do you struggle with chronic constipation or diarrhea?
Do you feel uncomfortable in your body & follow unsustainable restrictive diets to achieve a specific physical outcome?
Do you struggle with anxiety, mood imbalances, and/or brain fog?
This program, which starts Monday, January 17th  2022, is specifically designed to help you implement daily lifestyle habits and sustainable dietary practices in your life so that you can start living with boundless energy, balanced moods, glowing skin, & a happy belly!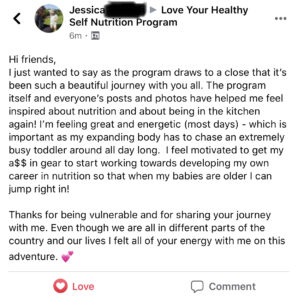 Scroll down for more information on program specifics!
Free Yourself From the Tyranny of Weight Loss Gimmicks & Starvation Diets For Good!
Imagine what life would be like if you had knowledge and skills to whip up a healthy meal everyone, even the kids, would love and still meet your health goals.
How would you feel if you could reach into the back of the closet, pull out your favourite pair of jeans or cutest dress, and actually have the confidence to wear it AND feel fabulous?
Wouldn't life be more exciting if you were finally freed from calorie counting and could trust that you were eating the right foods for you body and fitness goals? Imagine the brain space you would free up to create, play, explore, and devote to activities and people you actually enjoy.
What if you could finally be free of the brain fog, anxiety, mood imbalances, or chronic headaches that control your life so that you can start calling the shots and doing the activities that make your heart sing?
Picture a life free from crushing fatigue and afternoon crashes that require constant caffeine and sugar to make it through. What would you do with all that extra time and energy?

And finally, imagine that instead of warring with your body and treating yourself as the enemy, you learned to love and accept your body just as you are.
Feeding yourself the foods that keep you healthy and happy, without sacrificing taste!
Doing the activities that keep you strong and flexible.
Treating your body as the cherished friend who supports you so that you can finally live a life of compassion and ease.
These are just some of the benefits you will see after completing this program!
You'll be given all the information you need to take your health goals and lifestyle habits to the next level. And the beauty of this program is that you can take the pieces that make sense to you and incorporate them straight away, while giving yourself the chance to continue coming back to this information for education, inspiration, and empowerment.
Let's head into the 2022 feeling empowered, motivated, nourished, and excited to get outside and explore!
I just wanted to write a huge thank you to Caitlin. You are so knowledgeable, motivational, inspirational, passionate, positive, and the list goes on! I loved working with you throughout this challenge and I'm so excited to continue on with a lot of the healthy habits I have picked up. Thank you so much, you are great!!! Thanks again Cait!
Beth M.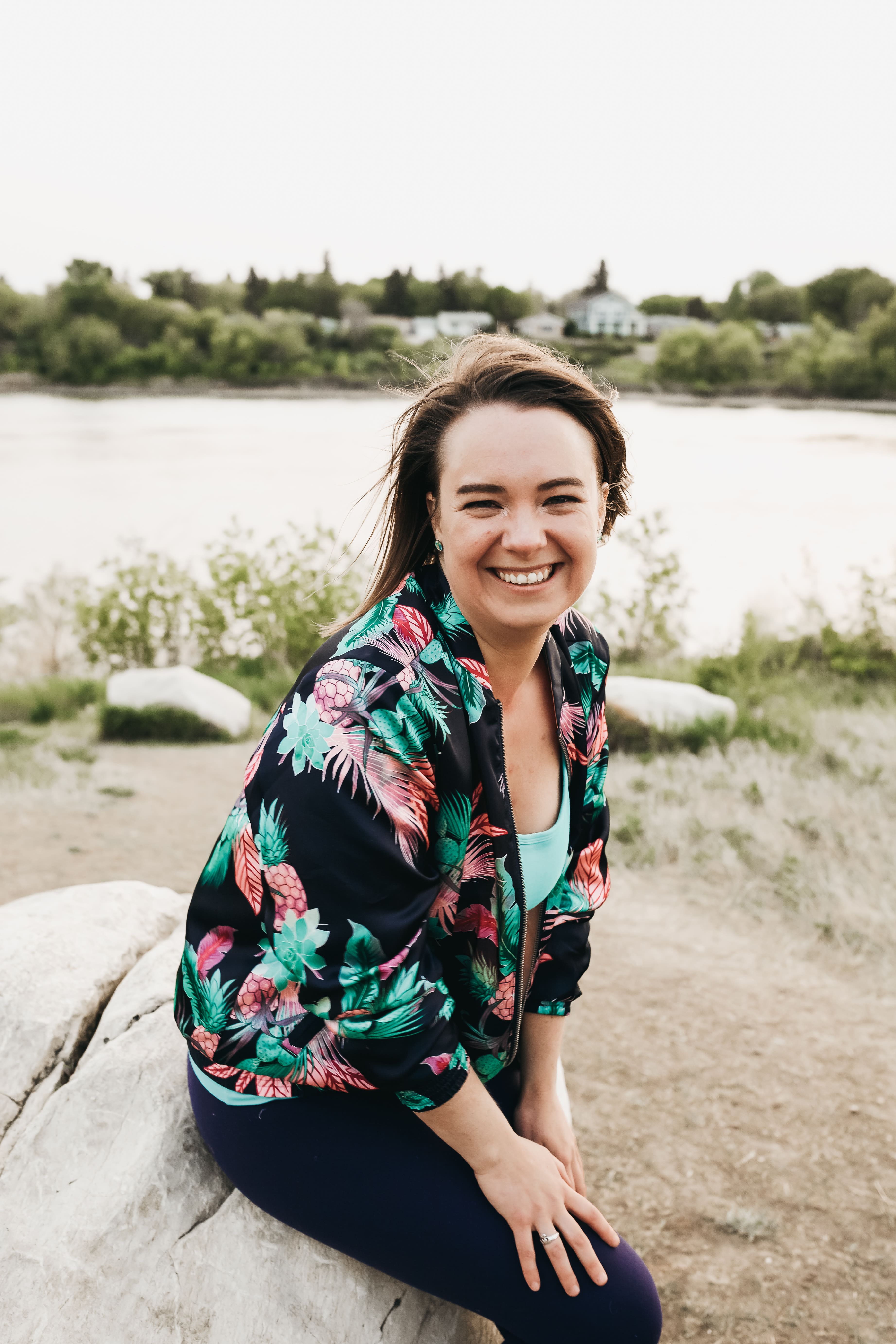 Caitlin Iles, MA, CNP, CNE
Holistic & Culinary Nutritionist  Hi there! My name is Cait and I am a Certified Nutritional Practitioner, Culinary Nutrition Expert, and Yoga Teacher with a keen interest in keeping up to date on the latest and greatest in nutrition and wellness research. I am so passionate about helping my clients feel happier, more energetic, and totally in love with their lives because I've been on the other side and knows that there's more to life than aches, pains, and fatigue.
In my practice I focus on healing the body through gentleness, self-compassion, the latest nutrition research, and time-tested, evolution-based dietary concepts. My mission is to help you change your relationship with food so that you can create your healthiest body and your happiest, most fulfilling life.
I've written for publications such as The Hearty Soul, The Academy of Culinary Nutrition, ALOHA Way Magazine, Mind Body Green, and Herb Affair. Creating space for healing at wellness retreats, cooking classes, and live talks is my passion.

Why Is This Program Right For You?
After you learn about the foods that are keeping you uncomfortable and your belly unhappy (they can be different for everyone!) and the best foods for healing your body, I promise you'll see amazing results!
Things like bloating after meals become a thing of the past.
Or your energy levels skyrocket and you'll suddenly start accomplishing in one day what used take you a week!
And perhaps best of all, you'll stop living inside your head, worrying and stressing out over every little thing, and finally become an active participant in your own life! 
I'm on a mission to help as many people become as healthy and happy as possible. After working with clients one-on-one since 2013 I've developed a foundational program to improve your health, which includes ditching the so-called "health" foods keeping you bloated, tired, uncomfortable, and sick.
I've broken it down into a program that outlines the foods and lifestyle habits that are the foundations radiant good health.
When you learn why these foods and habits either help or harm your body and address them in your life, you will be set up for long-term health and energy! 
Thanks Caitlin. Love your willingness to share of yourself! This program has been a wonderful experience. I actually took the time to read and learn and try and am so aware how much better I feel!! Even have hubby converted to no dairy and grains!!
Kathie R.

The Love Your Healthy Self Nutrition Challenge contains all the information & support you need to heal your body and start living the life you have always imagined while building a supportive online community!
You'll be guided through a 4-week elimination-style diet designed to remove common inflammatory foods such as gluten, dairy, and refined sugar, while incorporating healing foods and lifestyle practices so that you can reset your tastebuds, your digestive system, and your relationship with your body.
You will learn exactly which foods support YOUR health so that moving forward you can focus on eating foods that work for your goals, not what someone else says you should be eating.
Krista De Feijeter, Testimonial May 2020
Starting Monday, January 17th 2022 you'll be given all the tools, tips, recipes, and support necessary to lay a foundation for lasting change and a mind-body makeover you'll rave about!
I'm not promising you'll lose 10+lbs over the next 4 weeks, because weight loss IS NOT the goal.
What I can promise that if you follow my guidelines you will be well on your way to a life free from gas, bloating, headaches, anxiety, fatigue, weight gain, and mood swings!
You'll not only be making over what you put into your body, but also how you relate to it, treat it, and think about it. 
By changing the relationship you have with yourself and the foods that you put into your body you will be setting yourself up for lasting health and happiness by choosing physical or emotional nourishment with every bite.
If I hadn't made these changes I would still be struggling with anxiety, fatigue, and chronic digestive issues. But perhaps worst of all I would still be pursuing a career that left me unfulfilled and sick, rather than waking up excited every single day excited to get to work making the world a little healthier and a little more awesome.
There is tons of information to be found on making dietary and lifestyle changes, but trying to put it all together and stay motivated can be tough.
That's why I'll be with you every step of the way offering up guidance, support, and encouragement via weekly cooking tutorials, live Q & A sessions, and Sunday evening meditation sessions as you commit to creating your very best life overflowing with energy, passion, excitement, and a beautiful, healthy, active body ready to take on whatever adventures come your way.

WHAT DO PAST PARTICIPANTS HAVE TO SAY?
This month has been incredible! Heading into the challenge I was ready to accept my body would feel achy and sore forever, my knees and ankles were in pain all the time, and full IBS was on the horizon. I was also accepting my moodiness and cynicism. My body has changed, but more importantly my state of mind has changed dramatically. I feel HAPPY almost all the time and previous to this month was often chasing happiness. I have rebooted my will power. I can't say enough good stuff about this experience. I am truly so THANKFUL. Caitlin is an amazing facilitator and inspiring person. I knew in my heart how connected mental health was with what we ate, but couldn't get my head and hands to agree and sign up. I'm a new person.
Kristine D.
Thank you so much Cait! This has been great. The biggest thing for me is no more 1:30 slump where I historically could have fallen over. I've lost weight, and although that was not the main objective for me, it's a wicked bonus. Loving the learning! I've learned a lot more and look forward to carrying it forward with me. NEW thinking, new tools, new me! I feel fantastic!!!
Jenn J.
What's Included in the Love Your Healthy Self Program?
  28-Day Dietary Guidelines
These guidelines are the heart and soul of the program, which lists and explains the:
  * Foods to Love
  * Foods to Avoid
These are the foods that you will be experimenting with for the duration of the program.
  Daily Support Emails From Caitlin
 These emails include
 * Nutrition Tips & Kitchen Tricks
 * Recipes & Action Plans
 * Relevant Articles & Inspiration
Weekly Challenges & Activities
These small, but meaningful, challenges have been specifically designed & included to:
 * Help you discover which specific foods are making you bloated, sick, and unhappy.
 * Get you off the couch to start living again!
 * Push you beyond your comfort zone. This is where the magic of new experience happens and new memories are made!
 * Get comfortable in your own skin.
 * Practice self-love, self-care, and self-compassion.
 * Stop sabotaging your healthy living goals!
  Recipe & Snack Guides
These guides are packed with delicious recipes you won't believe are healing your body!
 * 70+ Recipes & Snack Ideas
 * Helpful Shopping List Template
  Helpful Handouts
I've developed several handouts to support you on this adventure, including:
 * A Guide to Healthy Pantry Staples
 * Easy Pantry Switches
 * Shopping List Template
 * Living Allergen Free
 * The Truth About Fat
 * Non-Dairy Sources of Calcium
 * Proper Digestive Process & Function
 * For Life Probiotics Guide
 * Balancing Your Blood Sugar
 * Basic Supplements for Nutritional Support
 * Sample Daily Schedule
 * Further Nutritional Resources
 * Reintroducing Eliminated Foods
 * BONUS: 10 TIPS TO BANISH BELLY BLOAT GUIDE!
  Access to the Private Facebook Group
I've found that the group community helps to keep us focused, motivated, and inspired. This group will help you:
 * Connect with a new community.
 * Offer each other support and advice 
 * Ask each other questions.
 * Build a community of like-minded friends.
 * Share your experiences, recipes, or struggles.
 * Pick my brain!

Weekly Information Sessions!
  2 Meditation & Intention Setting Sessions
 * We will get together on Zoom and I will lead the group through a guided meditation/visualization.
 * You will then have an opportunity to think about your intentions for the first and second halves of the program and share them if you feel so inclined.
 * My hope is this space would help you figure out your priorities for the month and help keep you focused and motivated.
  A Library of Recorded Restorative Yin Yoga
 * This series of restorative yoga classes offers the chance for stillness, reflection, meditation, deep tissue stretching, improved mobility, and fascial release.
 * Dive deep into your body and give it the chance to heal and rebalance by entering into parasympathetic rest & digest mode through deep breathing and supportive movement.
  Weekly Cooking Demos
 * Every week I will share a couple simple and delicious recipes that fit within the program guidelines.
 * You will receive the shopping & equipment lists + instructions to go along with each video.
 * The recordings will be kept in a library you can access throughout the program so you can ask questions in the group and share your creations!
  2 Live Q & A Sessions
 * These sessions will give you an opportunity to pick my brain about the weeks' topics, nutrition- and fitness-related questions, or anything wellness-focused.
  * These live chats be a great opportunity for us to connect  and share inspiration.
  * I will collect questions in advance as well as answering a few live questions submitted during the Zoom call.

Watch a Sample Cooking Demo: How to Make Gut-Healing Pho!
 Make Yourself a Priority and Start to Love Yourself Today!
"I want to get into my kitchen and cook and I want to eat all the things I'm cooking. No more boredom with food and for me that's wonderful! I'm still feeling amazing and sleeping like a baby. Best I've felt in years!"
Jennifer W.
Cart Closes Saturday January 15th at Midnight!
Member of Academy of Naturopaths and Naturotherapists of Canada. Now offering receipts for all New Brunswick, Quebec, PEI, and Newfoundland insurance providers except Blue Cross and Industrial Alliance. 
Learn to Love Your Healthy Self for $197
I strive to create educational materials that are of interest. This information should not be taken as medical advice. Always consult with a physician before commencing a new lifestyle or dietary habit.
My commitment is to helping individuals interested in and serious about improving their health. There are no refunds offered. Please read program descriptions thoroughly to ensure you are aware of what you are buying.
© 2022 | Nourished by Caitlin Iles