Hello friend! It's been a while since I fired up the old blog, which I think is a great sign that summer was full of fun, friends, and delicious food! But now that the slower days of fall are creeping in I have lots of recipes to share that I've been experimenting with all summer.
This first recipe makes use of a completely new-to-me ingredient that I received in my CSA box from Majestic Gardens: Husk Cherries! These little fruits grow in a papery little house, much like a tomatillo, but their flavour is really out of this world. I have a hard time describing it, but Jennifer Burke describes them as "marrying the taste of a sweet, ripe cherry tomato with the citrus flavors of pineapple and mango. These seemingly unrelated flavors meld together beautifully," which seems pretty accurate to me.
Now, a lot of people I know can pop these bad boys like candy, but for some reason I would generally tap out at 1 or 2 and considering the bounty I was receiving in my CSA this was not going to be sustainable. So going off of something Nela said at work about them resembling tomatillos, I thought it would be a great idea to turn it into a salsa verde-type dressing.
Since I also received delicious garlic and jalapenos in my CSA I was off to the races. I have a well-stocked pantry that pretty much always ready to make a salad dressing so all I needed was a lime or two to round out the recipe. Let's get to it shall we?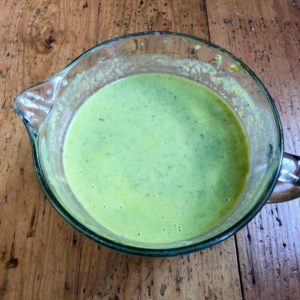 Spicy Husk Cherry & Lime Vinaigrette Recipe
This recipe combines the unique flavour profile of husk cherries with the spice of jalapeno and the zest of fresh lime to create a summery dressing perfect for salads, power bowls, fish, chicken, tacos, you name it!
Ingredients
1 & 1/4

cups

husk cherries

de-husked

1

lime

zest & juice. I like it extra tangy so I used 2

1/4

cup

apple cider vinegar

unpasteurized

1

jalapeno

roughly chopped

2

cloves

garlic

peeled and quartered

1

large bunch

green onions

roughly chopped

1

tbsp.

maple syrup

1

tbsp.

dijon mustard

1/2-1

cup

olive oil

extra virgin

1/4

tsp.

sea salt
Instructions
Combine all ingredients EXCEPT olive oil and sea salt in a large bowl.

Use your immersion blender to buzz together until large chunks are gone. It's ok if it's not perfectly smooth. Some texture in this recipe is great!

Slowly drizzle in olive oil while blending to emulsify it. Start with 1/2 a cup, taste, and if you want it a little smoother or to soften the taste add more oil.

Store in an airtight container in the fridge.
Well friend, that's the recipe for today! I hope you enjoy it. And remember, if you need any extra support to help you feel strong and healthy, make sure you download my FREE Anti-Inflammatory Meal Plan & Shopping List right here!
As always, thank you for your love and support!
Cait xo