Hi friend! I hope you've been having a spectacular week. I just got home from an incredible two weeks in BC. I explored Vancouver Island with my best friend and spent a few days in Whistler with my family, where I met JUSTIN TRUDEAU!
Anyone who knows me knows how much I love him and his wife, so this was definitely a cherry on top of an incredible vacation. While I was away I ate salmon every day because fresh seafood is my weakness and I don't get a ton of it here in the prairies… shocking, huh?
When I got back wild pacific salmon was on sale at my grocery store so I decided to buy a whole salmon and experiment with some recipes and thus this Spicy Sesame Salmon Burger was born!
I'm working on a series about inflammation as requested by some of the members in my Fully Nourished Facebook Community and salmon is one of the foods at the very top of my list of suggestions in an anti-inflammatory diet.
That's because it is packed with EPA and DHA, two omega-3 fats that help modulate the inflammatory cycle in the body and promote a state of health. These healthy fats are also necessary to build healthy brain cells, so eating these burgers can definitely make you smarter 😉
I've also packed them with cilantro for its detoxification benefits, sesame seeds for a shot of calcium, and coconut flour for some fibre and because it's a great gluten-free alternative.
These burgers are great on their own or you can play around with some of the toppings I've recommended below such as avocados for even more healthy fat and fibre, pickled ginger for a shot of probiotics and digestive support, and bok choy for its antioxidant, anti-inflammatory, and liver supporting properties. Enjoy 😀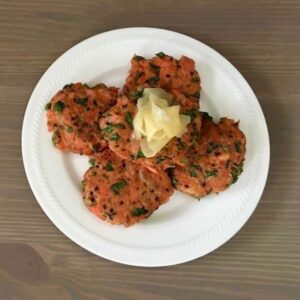 Spicy Sesame Salmon Burger Recipe
This paleo-friendly Salmon Burger recipe is super easy to pull together and packed with flavour and nutrition. Feel free to get creative with the herbs and spices and play with different toppings to make this recipe your own!
Ingredients
2

cups

flaked salmon

I like to use raw

1

egg

1

tsp.

garlic powder

1

tsp.

onion powder

1

tsp.

black or white sesame seeds

1

tsp.

chili flakes

1

tsp.

mustard

1/4

tsp.

sea salt

2

tsp.

toasted sesame oil

3

tsp.

tamari

1/2

cup

loosely packed cilantro

3

green onions

thinly sliced

1/4

cup

tapioca starch

1-2

tbsp.

coconut flour

1

tbsp.

olive oil

butter, or coconut oil
For Toppings (Optional Suggestions)
pickled ginger

1

avocado

wasabi mayo

bok choy

GF hamburger bun
Instructions
Heat a large frying pan over medium heat.

Combine all ingredients into a large bowl, mixing thoroughly with hands.

Form into small balls and then press into flat patties.

Add oil to frying pan and place patties into oil.

Let cook for 3-4 minutes or until bottom is golden brown, then flip.

Repeat on the other side.

Remove from heat and let cool on wire cooling rack.

Add toppings of choice and enjoy!
Well friend that's our deliciously anti-inflammatory, Asian-inspired salmon recipe for this week. And if you'd like to see how to make this salmon burger straight from the source you can sign up for the Seasonal Spring Recipes online cooking class right here! Have a wonderful week friend!
Cait xo