Hello friend! It's been a couple weeks since I've shared a new recipe with you and so today I'm back with a meal that I'm currently obsessed with: Sheet Pan Chili Roasted Squash & Beans Recipe. We made it in one of my cooking classes a few weeks ago and since then I've probably made it about 4 times.
It's such an easy and delicious way to get a meal packed with plant-based goodness and tons of flavour. You also only need to use one pan to make it, which always makes clean up a breeze, especially if you use parchment paper.
If you are a fan of batch-cooking or meal prep magic, then this recipe becomes even easier since you've already peeled and chopped your squash, made a delicious salad dressing, and cooked up some quinoa so all you have to do is mix and match!
Learning the basics of batch-cooking and meal prep will really save you so much time in the kitchen and ensure that even on your busiest days you have something healthy and delicious ready to throw together.
One of the things I love most about this recipe is how crispy the beans get and how it really compliments the tenderness of the squash. I love when a meal combines lots of different textures and flavours so that you feel fully satisfied after eating. And if you do decide you need a little dessert, these Snickerdoodles are always a hit!
Well, let's get to the recipe shall we?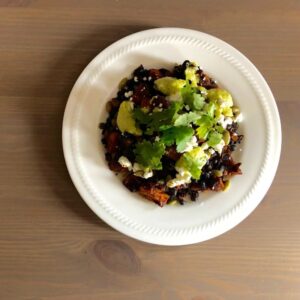 Sheet Pan Chili Roasted Squash & Beans Recipe
This recipe is the perfect one-pan meal for those busy nights when you just don't want to dirty a thousand dishes. Serve it over a bed of quinoa or greens for a complete meal!
Ingredients
1

cup

quinoa

1 ¾

cups

water

1

tsp.

sea salt

1

small-medium squash

cubed

1

can black or white beans

drained and rinsed

1

red onion

diced

2

tbsp.

olive oil

1

tsp.

garlic powder

1

tsp.

onion powder

1

tbsp.

chili powder

1

tsp.

smoked paprika

1

tsp.

sea salt

pepper to taste

¼

cup

pumpkin seeds

1

bunch

green onions

cilantro

small handful

optional: goat cheese and 3 cups greens of choice
Instructions
Preheat oven to 385F and line a baking sheet with parchment paper.

Add quinoa, water, and sea salt to a pot, stirring to combine. Bring to a boil then reduce to a simmer for 15 minutes, keeping covered. Remove from heat, fluff with a fork and let cool while squash cooks.

Combine all remaining ingredients, except pumpkin seeds & goat cheese, in a mixing bowl until thoroughly coated.

Spread in a single layer over the baking sheet.

Bake for 20-30 minutes, until edges of the squash are browned and inside is soft.

While squash is cooking, heat a frying pan over medium heat. Add pumpkin seeds and toast until browned and popping, stirring regularly. Remove from heat and set aside.

Remove, top with pumpkin seeds, goat cheese, cilantro, green onions, and Ginger Lime Dressing and enjoy! Can serve over grain of choice or a bed of greens (or both!).
Well that's our recipe for the day! I hope you enjoy the spicy deliciousness.
And if you're looking for some more inspiration in the kitchen you can try out my FREE Build Your Own Buddha Bowl Cooking Class right here! You'll receive a recipe guide, shopping list, & equipment list plus a demo on how to make Turmeric Coconut Rice, Glory Bowl Dressing, & Sweet & Salty Roasted Chickpeas. Get the class here!
As always, thank you for your love and support. Please stay safe and take care of one another!
Cait xo