Hello friend! I hope you're feeling safe, warm, and loved wherever you are. In NB we just imposed some new restrictions so I'm flying solo with my kitties for the next couple of weeks. It's given me an opportunity to recommit to my project of turning my house into a cozy and beautiful space as part of my plan to stave off the winter blues. The benefits of this project are two-fold: it gives me something to focus on that isn't work or world related and it turns my space into a place I want to be.
I've been buying lots of plants off Marketplace and filling my space with green. Since I don't have a natural ability to keep plants alive, this awesome website has been a real help. I've even picked up some adorable live edge wooden shelves and a mid-century ceramic flamingo that I've named Niles (and with whom I'm super obsessed).
Along with beautifying my space and keeping busy with little projects, I've been spending lots of time in the kitchen. I had a surplus of garlic and was wondering how I was going to get through it all and remembered that most food is merely a vehicle for delicious sauce, so I figured why not just turn it into a super roasty-toasty sauce that I could literally pour over everything.
It's a pretty easy-squeezy recipe; the hardest part is separating the garlic and roasting it in the oven. It also lasts quite a while (though I'm sure it won't, if you know what I mean!) and you can jazz it up with fresh herbs, some lemon, or anything else your heart desires.
I've talked about the immune-supporting benefits of garlic before, so I won't get into it again here. But if you're interested you can read all about it in this post or this one.
So, without further ramblings from me, here you go!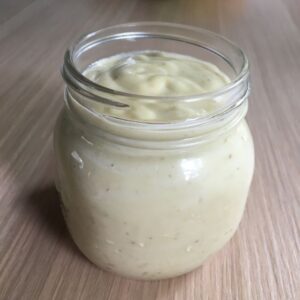 Immune-Supporting Roasted Garlic Sauce Recipe
This recipe is packed with the healing power of garlic, calcium-rich tahini, & probiotic apple cider vinegar to create a delicious sauce packed with nutrition to support your immune system.
Keyword:
Roasted Garlic Sauce Recipe
Ingredients
1

bulb

garlic

2

tsp.

avocado or olive oil

1/4

cup

tahini

3

tbsp.

apple cider vinegar

1

tbsp.

mustard (ground, dijon, regular)

1

tbsp.

maple syrup

1/4

tsp.

sea salt

1/2

cup

olive or avocado oil

2

tbsp.

water
Instructions
Preheat oven to 375F and line a small baking sheet with parchment paper.

Separate garlic cloves but DO NOT PEEL.

Toss garlic cloves in avocado or olive oil then spread in a single layer on the baking sheet.

Roast for 15-20 minutes until garlic peel is brown and the clove is squishy to the touch—use a fork to test!

Once roasted, remove from oven, peel, and add to a mixing bowl or small food processor.

Add tahini, apple cider vinegar or rice vinegar, mustard, maple syrup, and sea salt to garlic. Blend thoroughly using a handheld blender or small food processor.

Once smooth, slowly pour in oil while blending until fully combined. Can add the water here to help with blending. Taste and adjust seasoning. You may want a little more salt, sweet, oil, or acid depending on your preference.

Store in a glass jar in the fridge. This dressing tastes best when allowed to sit in the fridge overnight!
Well friend, that's my garlicky goodness recipe to help you beat the winter blahs. And remember, if you need any extra support to help you feel strong and healthy this winter season, you can download my FREE Anti-Inflammatory Meal Plan & Shopping List right here! 
Cait xo