Hello friend!
My how things have changed in such a short amount of time. As I'm sure you are aware, we are going through an unprecedented experience across the globe as governments around the world try to control and manage the COVID-19 pandemic. I know it's a scary time. As someone who is self-employed and makes the majority of my income from in-person events (cooking and yoga classes and retreats) all of which have been postponed indefinitely, I'm experiencing the fear first hand.
However, I know that all that we're doing is for the greater good and protection of everyone in our society, so my goal is to show up and share as much as I can with you online while we're all at home doing our part to take care of our neighbours and friends.
Last week I recorded my first guided meditation to help you release stress and enter a deep state of sleep, which is available to stream for free by clicking right here!
And I'm working on filming some short stretches and little recipe demos that I will be sharing regularly so we can still stay connected until we can meet again in person!
Today I wanted to share one of the most popular recipes from my Healthy Thai and Healthy Indian cooking classes: Crispy Tofu!
I don't even like tofu and even I can sit down with a bowl of these and eat the whole thing in no time. They're perfectly crispy, salty, and satisfying and make a great snack. Or you can throw them on pad thai, noodle dishes, in curries, soups, salads. Basically everything will be improved by the addition of these little blocks of crispy goodness!
Tofu makes a great plant-based protein alternative if you're looking to incorporate more plant foods into your diet. When looking for tofu try to find organic brands as they are guaranteed to be non-GMO and will contain much less pesticide residue.
Alright, let's get to the good stuff!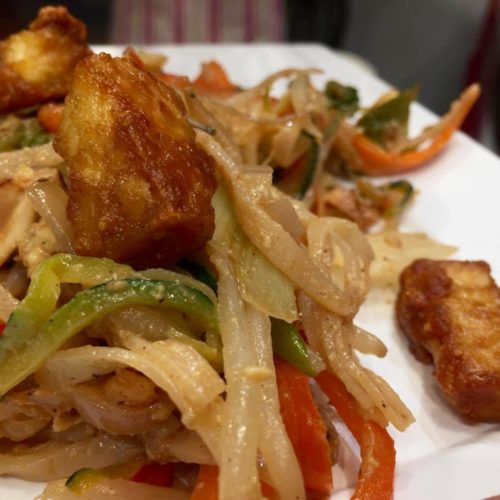 Easy & Delicious Crispy Tofu Recipe
This recipe is ridiculously easy and give you the crispiest, tastiest tofu that will convert even the most skeptical critic! It's always a huge hit at my cooking classes. Try using a medium tofu if you want a softer middle texture.
Ingredients
1

block

extra firm tofu

1 + 1

tbsp.

olive oil

divided

2

tbsp.

tamari

1/2

tsp.

sea salt

3

tbsp.

nutritional yeast

3

tbsp.

rice, arrowroot, or potato starch/flour

they all work great
Instructions
Preheat oven to 400F and line a baking sheet with parchment paper

Cut the block of tofu in half like you're slicing it open for a
sandwich.

Press the moisture out of it by placing it between paper towel on a
plate and covering it with a pot filled with cans or water for at least ten
minutes.

Once pressed, cut into strips and then into small bite-sized cubes.

Add to a bowl and toss in 1 tbsp. olive oil, tamari, sea salt,
nutritional yeast, and flour/starch until coated.

Pour the remaining olive oil onto the parchment paper lined baking sheet and spread to coat.

Spread the tofu cubes out onto the sheet so that none of them are touching.

Bake for 15 minutes, then remove from the oven, flip them over, and return to the oven to bake for another 15 minutes or until outside is golden brown and crispy. They will crisp up a little as they cool.

Remove from the oven and let cool a few minutes. Enjoy!
Well friend, that's the recipe for today! I hope you enjoy it. And if you'd like to get some inspiration in the kitchen, check out this FREE Cooking Class where I show you how to make a delicious Buddha Bowl complete with Turmeric Coconut Rice, Sweet & Salty Roasted Chickpeas, & Glory Bowl Dressing!
As always, thank you for your love and support. Please stay safe and take care of one another!
Cait xo