Hi friend! I hope you had the exact holiday that you needed; whether it was small and quiet, a little bigger and packed with activities, or anything in between. I had a lovely few days with my family cooking up a storm, playing board games, eating tons of cheese, watching movies, and just generally enjoying each others' company.
I shared some photos of the goodies on Facebook if you want to take a look (I made a delicious fruit tart with almond shortbread crust- white chocolate & goat cheese filling- blueberries- orange glaze, pulled pork with GF mac & cheese, from-scratch Pad Thai, sticky date putting with homemade caramel sauce, and a yummy mixed veggie egg bake for easy breakfasts).
Even though our holidays are pretty laid back (we don't put stress on making it look any one way and no one is expected to change out of their pjs), I still get pretty worn out just from being outside of my routine for an extended period of time- hello introvert who thrives on habits and routine!
Over the past few years I've been able to add quite a few healthy habits to my daily routine. You can check out some of my favourite morning habits right here. One of my morning favourites is this Matchaga Latte.
Thanks to my time at the Academy of Culinary Nutrition I learned that one of the best ways to start my day is with a nourishing and naturally energizing elixir.
My current favourite is one I call the Matchaga Latte. It combines the super potent antioxidant benefits of matcha green tea, with the immune support of chaga, and the energizing medium chain fats of coconut milk to support your brain and liver in doing what they do best.
In fact, I'm drinking one as I type up this post! It's super easy to make and a great way to give yourself a punch of nutrients first thing in the morning.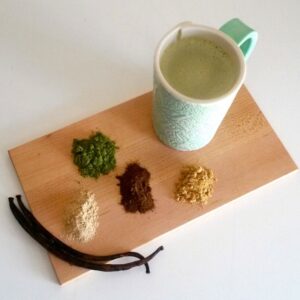 Immune Boosting Matchaga Latte Recipe
This recipe combines the potent antioxidant benefits of matcha green tea, with the immune support of chaga, & the energizing medium chain fats of coconut milk.
Keyword:
Vegan Matcha Latte Recipe
Ingredients
1/2

tsp.

matcha powder

1/2

tsp.

chaga powder extract

: you can use chaga tea or a few drops of tincture

1/2

tsp.

ginger powder

1/2

tsp.

ashwagandha powder

: optional

1/4

cup

full fat coconut milk

1/2

tsp.

vanilla extract

1.5

cups

boiled water

1/2

tbsp.

honey or maple syrup
Instructions
 Whisk together matcha, chaga, ginger, Ashwagandha, coconut milk, and vanilla in a large mug until a smooth paste forms.

Pour hot water into mug and whisk together.
Recipe Notes
Notes: 
* If you have a venting blender, you can add all the ingredients to the blender and buzz together instead of whisking the powders with the coconut milk. 
* Instead of water you could use a licorice, ginger, or chaga tea base.
* if you have a high speed blender try using 3 dates to sweeten your latte. 
And remember, if you need any extra support to help start 2022 feeling strong and healthy, you can contact me right here to see whether private or group nutrition coaching might be right for you.
I'm registered with the Canadian Association of Naturopaths & Naturotherapists, so I can offer insurance receipts to folks with Naturopath coverage who live in New Brunswick, PEI, Quebec, or Newfoundland. The only companies I can't issue receipts for are Blue Cross and Industrial Alliance.
Personalized Wellness Planning:
Best for folks who have specific health conditions they want to focus on such as PCOS, hormonal imbalances, inflammatory bowel diseases, IBS, etc.
Foundations of Nutrition Private Coaching:
Best for folks who want to learn about the foundational concepts of nutrition such as blood sugar balance, probiotics, leaky gut syndrome, inflammatory vs. anti-inflammatory fats & oils, and anti-inflammatory eating. These private sessions will offer an opportunity for use to dig into your personal questions and find some targeted areas to focus on.
Foundations of Nutrition Small Group Coaching:
Best for folks who want to learn the foundations of nutrition as mentioned above, but who don't necessarily need personalized recommendations. It's also an affordable 4-week option. The next session starts on February 1st. You can get all the details here. The price is lower since you don't get the same level of personalization, but you do get the support of a group. Plus you get weekly recorded modules and live group coaching, action steps, and tons of delicious recipes!
One-And-Done Check In:
I don't have an official page for these sessions, but they are 1-hour check in sessions. I take a look at your food and mood journal and an intake form you fill out prior to our session. We figure out areas that you're rocking and support areas that could use a little bit of lovin'. These sessions are $100/hour and include a follow up action step plan with everything we discussed during our session, plus any additional tweaks that I think would help.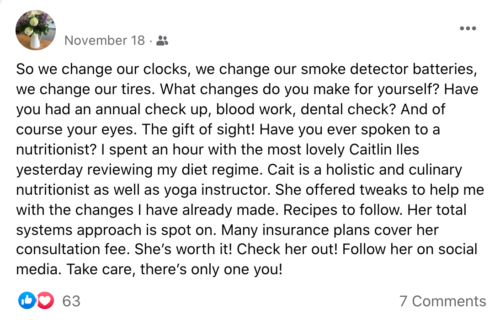 As always, thank you for your love and support and have the best 2022!!
Cait xo