Hi friend! I hope you've been having a magical week! I'm currently taking some time for myself in Victoria, BC enjoying the ocean, forests, and company of my best friend. Though it's beautiful here, there's also been a slight chill to the air that can only be chased away by deliciously warming soup so I thought I would share one of my new recipes from my cooking classes: Smokey Tomato Soup with Beans & Rice.
The ladies in one of my regular cooking classes made it last week and a couple of them had their daughters with them, so of course they came to sample all the goodies we made (also on the menu were my now infamous Double Chocolate Avocado Fudge Cookies. If you haven't made them yet, just stop reading now and go do it. You're welcome!). When they tried the soup a couple awesome things happened.
They thought there was ground beef in it and so felt totally full and satisfied.
One of the girls "hates beans" and when we told her there were beans in the soup she said "well I guess I like 

these

 beans."
Getting kids to try things they don't like can be super tricky, so creating foods that have familiar tastes and textures, but that incorporate new foods is an awesome way to start expanding their palates and introduce them to new ways of preparing otherwise ick inducing items.
My plant-based friends will also be happy to know that this recipe contains lots of nourishing protein and can be eaten as a complete meal. For extra yum you may want to try dipping my Cilantro Lime Cauliflower Biscuits in this soup for a delicious and totally satisfying meal.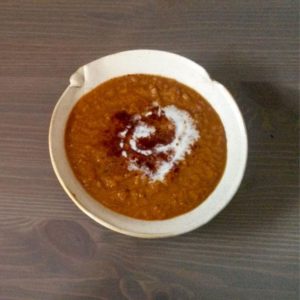 Vegan Smokey Tomato Soup with Beans & Rice
This soup is packed with flavour & nourishing, plant-based proteins to help you fuel your day. Great for picky eaters & those who are hesitant to try vegetarian food!
Ingredients
1

cup

wild or mixed grain rice

1 & 3/4

cups

water

1

tbsp.

olive or avocado oil

1

white onion

diced

4

cloves

garlic

chopped

1-2

tbsp.

smoked paprika

the more you use, the smokier it will be!

4

stalks

celery

chopped

5

tomatoes

chopped (can sub 1 large can diced tomatoes)

1

can

tomato

paste

1

can

black beans

rinsed (can sub with 2 cups cooked black beans)

4

cups

water or veggie broth

1/2

tsp.

sea salt

more to taste if you'd like!
Instructions
Cook rice at a 1:1.75 ratio of rice to water (1 cup rice to 1 and ¾ cups water and set aside.

Heat a large soup pot over low-medium heat for about 3 minutes.

Add olive oil, allow it to heat up for 30 seconds then add onions and smoked paprika. Stir to combine then cover pot.

After 3 minutes or when onions turn soft and translucent add garlic & celery to the party,
stirring until coated. Cover and let steam a couple of minutes.

Add tomatoes, tomato paste, black beans, water, and sea salt. Stir together then bring to a boil. Reduce to a low heat and simmer 15-20 minutes, until tomatoes have broken down and veggies are soft. The longer you let it simmer, the deeper the flavour will develop.

Remove from heat and puree with immersion blender. You can leave it as chunky as you like, but a quick puree helps with texture, especially when feeding it to kiddos!

Stir in rice and return to heat. The longer you let it simmer the yummier it will taste!! You
may want to add a touch more salt after tasting.
Well that's our recipe for today friend! I hope you enjoy it.
If you need any extra support on your health journey, I've put together a FREE 7-Day Anti-Inflammatory Meal Plan & Shopping List that you can download right here. 
I'm off to go enjoy some panoramic ocean views and cuddle up with a book and some tea to pamper my soul. Have a beautiful day friend!
Cait xo