Hello friend! I hope you're feeling safe and healthy wherever you are. I recently had to get a covid test (negative! woohoo!), but in abundance of caution I decided to self-isolate until I received my results. Unfortunately, I hadn't had time to get to the grocery store before I isolated and quickly worked my way through the fresh produce in my fridge.
One evening as I stared into my empty fridge wondering what I would have for dinner, I remembered I had a couple bunches of carrots in the crisper from my CSA (thanks Majestic Gardens!) that I hadn't yet used up. I also had some coconut milk, lemongrass, hot peppers, and lime leaves leftover from a Thai cooking demo I had done the week before along with an abundance of garlic, a frozen jar of bone broth, and one sad little onion.
I love the citrusy flavours of lemongrass and lime leaves and thought they would be the perfect complement to the sweetness of my local carrots. I'm also a huge fan of all things soup, so figured I had the fixins to try something new.
Well, I can say I was not disappointed! I often say in my cooking classes that the Thai food is naturally incredibly health-promoting (and delicious!) thanks to the abundance of fresh herbs and spices used in many of the recipes, so you can feel good knowing this soup is packed with antioxidants to support your body, while soothing your soul through the cold night's of winter. Bring a little sunshine to your life with a bowl of this Spicy Lemongrass Coconut Carrot Soup!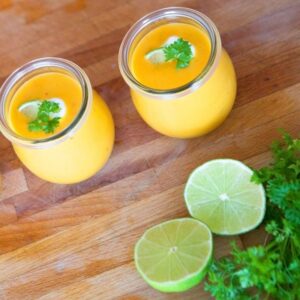 Spicy Lemongrass Coconut Carrot Soup Recipe
This recipe combines the bright fresh flavour of lemongrass & lime leaves with a hint of spice & sweetness from carrots & coconut milk. It's the perfect soothing soup to brighten up your winter evenings!
Keyword:
Lemongrass Coconut Carrot Soup
Ingredients
2

tbsp.

coconut oil

1

white onion, chopped

1

bulb

garlic, chopped

1

inch

ginger, grated

2-4

hot peppers, deseeded & chopped

optional

2

stalks

lemongrass

10

lime leaves

2

lbs.

carrots, chopped

4

cups

vegetable or bone broth

1.5

tsp.

sea salt

1

cup

coconut milk

1

tsp.

rice vinegar

1

tsp.

coconut palm sugar or maple syrup
Instructions
Prep all ingredients before starting to cook. Cut lemongrass into 1 inch pieces and smash with the flat end of your knife until flattened. Keep the carrots separated from the aromatic ingredients. You will want to tie the lime leaves & lemongrass into cheese cloth to make them easy to remove.

Preheat a saucepan over medium heat. Add coconut oil.

Once melted and warmed add onions, garlic, ginger, peppers, lemongrass, and lime leaves to the pot and stir. Cover and allow to brown for 1-2 minutes until aromatic.

Once there is some softening and light browning to the onions, etc. add the carrots and mix together.

Pour in broth and sea salt. Mix, cover, and bring to a boil.

Reduce to a simmer for 25 minutes or until carrots are softened. You can let it simmer longer to deepen the lemongrass flavour.

Once cooked, remove lime leaves and lemongrass stalks.

Add coconut milk, rice vinegar, and maple syrup then puree with an immersion blender or heat-venting blender.

You can add the lemongrass and lime leaves back to the mix (don't eat them!) and let it simmer a few minutes.

Squeeze a lime wedge into the soup and enjoy!
Well friend, that's our recipe for today! I hope you enjoy it. And I just published a great little guide with my Top Ten Tips to Banish Belly Bloat, which you can download right here if you need a little extra digestive support!
As always, thank you for your love and support. Please stay safe and take care of one another!
Cait xo