Hello friend! I hope you had a beautiful long weekend with your family and friends celebrating love and all things chocolate. Today's recipe post is going to get right to the delicious point. I love cauliflower and now that it's no longer $7+ for a head, I can get back to experimenting with it in all its various forms.
Today's recipe is a riff off of one of my favourite recipes. I've added a kick of lime and the deliciously detoxifying awesomeness that is cilantro. These bad boys are really simple to throw together and make the perfect side. You can also cut them in half and make little mini sammiches. I suggest some sliced avocado, shredded chicken, and hot sauce for a Mexican inspired treat.
Using cauliflower in place of grains is a great way to nourish the probiotic colonies in your digestive tract, keep your blood sugar balanced, and prevent damage to your digestive tract, especially that caused by gluten-containing grains.
Keeping the integrity of your gut lining healthy and happy will go a long way towards preventing degenerative diseases, managing inflammation in the body, and ensuring you're absorbing all those healthy foods you're eating so that you skin, hair, and nails can grow strong and gorgeous. Enjoy!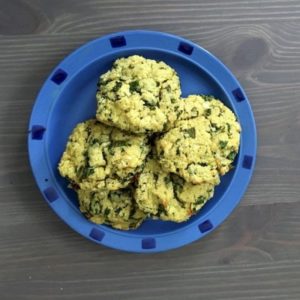 Cilantro Lime Cauliflower Biscuits
This recipe uses cauliflower, coconut flour, and fresh herbs to create a low-carb biscuit perfect for dunking in soups or making mini sandwiches with!
Ingredients
2

cups

cauliflower

riced*

1

lime

juice & zest (feel free to use more!)

1/3

cup

cilantro

densely packed

5

green onions

chopped

4

cloves

garlic

chopped

1/3

cup

coconut flour

have a little extra on hand

1/3

cup

tapioca starch

1

tsp.

baking powder

1/2

tsp.

sea salt
Instructions
Preheat oven to 350F and line a baking sheet with parchment paper or grease with coconut oil.

Stir together cauliflower, lime, cilantro, green onion, coconut flour,
tapioca starch, baking powder, and sea salt.

Crack egg into the mixture and stir together until fully combined

Let mixture sit 7-10 minutes to allow coconut flour to absorb the
moisture, then knead for about 30 seconds until it starts to stick together. If there is a lot of moisture (some cauliflower releases more water; some eggs are larger) add a couple more tbsp. of coconut flour until it sticks.

Form into small balls and then press flat into desired biscuit shape. The larger they are, the longer they will take to cook.

Bake for 45 minutes until tops are golden brown and biscuit is firm when pressed.
Recipe Notes
*To rice cauliflower, break up into florets and pulse in a food processor until a small, rice-like texture is achieved.
Store in an airtight container for up to 5 days. 
Well friend that's our delicious recipe for this week. They taste great dipped in chili, spaghetti sauce, or tomato soup. I've also got another delicious recipe coming up next week for Smokey Tomato Soup with Black Beans & Rice, so stay tuned.
If you need any extra support on your health journey, I've put together a FREE 7-Day Anti-Inflammatory Meal Plan & Shopping List that you can download right here. 
As always, thanks for your love and support!
Cait xo