Hi friend! I hope you've been having a wonderful week. Today I'm going to share a super simple breakfast I've basically been living off of all week: Jalapeño Spinach Frittata Recipe.
This recipe is ridiculously easy and you can make it in advance either in a large 10 x 10 baking dish or individual muffin tins to have a grab-and-go brekky jam packed full of protein, healthy fats & carbs, antioxidants, and all the nourishing goodness you need to start your day off with a bang!

It's so important that you make time to nourish your body with the proper foods so that you can go through your day without peaks and crashes in our energy or mood, so that you can maintain a healthy and stable blood sugar balance, and so that you feel your absolute best no matter how busy you are!
I know that over the past couple of months I've been much busier than usual and so I've been relying on my sweet tips for meal prep magic and batch cooking to make sure I always have something healthy, filling, and, above all, delicious.
How I usually do it is that I pick one day a week where I have a few hours free and I do all my grocery shopping. Then I'll usually make a big pot of chili or curry, cut up my veggies for smoothies, juicing, or sides, whip up a sauce or vinaigrette, roast some chicken or sausages, make this frittata or my Easy Peasy Egg Cups To Go and finally make myself some healthy treats like my Chocolate Brain Boosters, Tahini Walnut Magic Bars, or a batch of Banana muffins. 
Prepping all these goodies (remember I'm only doing one of each typically!) in advance makes it so ridiculously easy to eat healthy and indulge mindfully that I don't waste a single moment during the week thinking about what I have to eat, unless I want to.
So let's get to the good stuff now, shall we?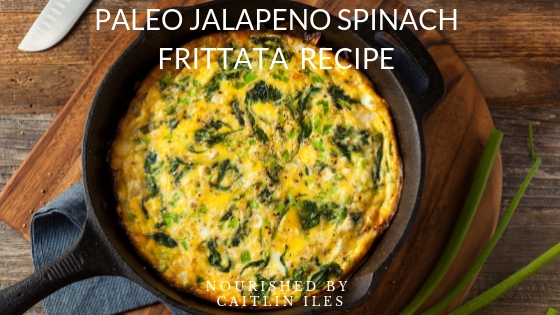 Paleo Jalapeno Spinach Frittata Recipe
This recipe is packed with flavour and nutrition and makes the perfect protein-packed way to start your day! You can turn it into little mini grab-and-go muffins for an easy breakfast.
Ingredients
1

tsp.

coconut oil or organic butter

12

free-range eggs

1/2

tsp.

sea salt

6

cloves

garlic

chopped

1

small sweet potato

shredded

2

jalapeños

seeded and finely diced

4

green onions

diced

6

cups

spinach

chopped
Optional Add Ins
200

grams

goat cheese

1/2

cup

chopped, cooked bacon
Instructions
Preheat oven to 375F.

Using the tsp. of coconut oil grease your baking dish or muffin tins.

In a bowl, whisk together the eggs and sea salt.

Fold in garlic, sweet potato, jalapeño, green onion, and spinach. Crumble goat cheese and stir it in if you're using it.

Pour the mix into baking dish and place in the oven.

Bake at 375F for 30 minutes.

Reduce heat to 350F and bake another 10 minutes or so or until centre is firm to the touch.

Remove from oven and top with salsa, avocado, and/or more goat cheese for a truly decadent experience.

Enjoy!
Well that's my recipe for the week! I hope you enjoy it 🙂
And if you're looking for even more inspiration with healthy recipes then make sure you download my FREE Anti-Inflammatory Meal Plan & Shopping List right here!
Have a great weekend friend!
Cait xo

Image credit: Shutterstock