Hello friend!
You may be able to tell from my past posts that quarantine has put me into a baking kind of mood and this week is no different. I had a bunch of carrots sitting in my fridge and for some reason I've never been able to wrap my head around snacking on carrots raw or putting them in salads, so unless I'm making a soup they generally go unused in my kitchen (I know; I'm a terrible nutritionist).
However, there is one way in which I absolutely love to eat carrots: as a cake! Last week I went over the different types of flours that I tend to use in my grain-free baking and I feel like I've finally created a really nice blend of almond, cassava, and tapioca flours that gives a light, fluffy texture. Though I haven't eaten wheat products since 2011 so my memory of what I'm comparing to is pretty hazy.
This recipe has fresh ginger, cinnamon (for maximum deliciousness and to help balance blood sugar), nutmeg, cloves, and cardamom for flavouring. I also use a combination of banana and coconut palm sugar as a sweetener to help keep the glycemic load as low as possible. Though keep in mind this is still definitely a treat!
For the icing, I turned to my all-time favourite: goat cheese! And combined it with either organic butter or coconut oil, depending on your dietary and taste preferences. The flavour will change a little bit depending on which you choose, but both are super tasty. The goat cheese, combined with a little lemon zest (thanks for the tip Krista!) gives the icing a delicious tanginess that cuts through the richness of the cake.
Well, let's get to it shall we?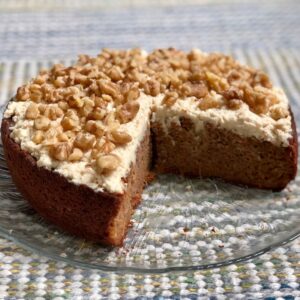 Grain-Free Carrot Cake Recipe
This grain-free carrot cake is low in sugar, but high in flavour and deliciousness! Packed with fresh ginger, cinnamon, and spices it's the perfect healthy indulgence!
Keyword:
Gluten-Free Carrot Cake Recipe, Grain-Free Carrot Cake Recipe, Healthy Carrot Cake Recipe, Low Sugar Carrot Cake Recipe
Ingredients
Dry Ingredients
1.5

cups

almond flour

1/2

cup

tapioca flour/starch

1/2

cup

cassava flour*

can sub for 1/4 cup coconut flour

3

tsp.

baking powder

1/4

tsp.

sea salt

3

tsp.

cinnamon

1/2

tsp.

nutmeg

1/4

tsp.

cardamom

1/4

tsp.

clove
Wet Ingredients
4

large

eggs

1

tbsp.

vanilla

1

tsp.

lemon juice

1

banana

very ripe

3/4

cups

avocado oil or light olive oil

1/3

cup

coconut palm sugar
Add Ins
2

cups

grated carrots

firmly packed down

2

tsp.

fresh ginger

grated

2

tsp.

coconut palm sugar

1/2

cup

walnuts

chopped
Instructions
Preheat oven to 350F and grease two 9 inch cake pans with coconut oil or butter. I've also baked it in one pan. It may take a little longer and be a little moister, but you get a fatter cake!

In a bowl combine all dry ingredients and mix together until no clumps remain.

Place all wet ingredients into a food processor and pulse until smooth.

Pour wet ingredients into dry ingredients and mix together until all flour is incorporated.

Stir in carrots and grated ginger and then divide mixture evenly into two baking pans.

Sprinkle 1 tsp. of coconut palm sugar over each cake and place on middle rack in the oven.

Bake for 40 minutes until the edges are golden and a tooth pick inserted in the middle comes out clean.

Remove from oven and cool for 15 minutes in the cake pans then transfer to a cooling rack.

Once fully cooled cover one cake with half of the goat cheese frosting (see recipe below). Then place the second cake on top, cover with the remaining icing and sprinkle with walnuts. Enjoy!
Recipe Notes
* If you don't have cassava flour use 1/4 cup almond and a 1/4 cup tapioca!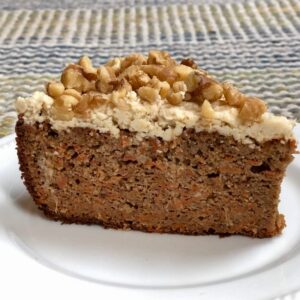 Goat Cheese Frosting Recipe
This delicious cow dairy-free frosting is the perfect combination of tangy & sweet to balance out the richness of any cake!
Keyword:
Goat Cheese Frosting Recipe, Healthy Cake Frosting Recipe
Ingredients
1

cup

coconut oil or organic butter

softened to room temperature

300

grams

goat cheese

1

tsp.

lemon zest

1

tsp.

vanilla extract

1/4-1/2

cup

honey or maple

start with 1/4 cup and add more for your preference
Instructions
Place butter or coconut and goat cheese in a mixing bowl and whip with a handheld mixer until smooth.

Add lemon zest, vanilla, and sweetener and whip on low for a few seconds then increase to high speed and beat for another minute or two until smooth and fluffy.

Use immediately or store in the fridge in a sealed container for 5-6 days. You may want to whip it again before using.
Well friend, that's my recipe for today! I hope you enjoy it. And remember, if you need any extra support to help you feel strong and healthy, you can download my FREE Anti-Inflammatory Meal Plan & Shopping List right here! 
As always, thank you for your love and support. Please stay safe and take care of one another!
Cait xo