Hello friend!
I was recently on the receiving end of a massive amount of arugula… of which I am not a fan and may even go so far to say I actively dislike it. So I did want any food obsessed person would do and attempted to hide it with flavours and textures that I actually enjoy. And I can safely say that this recipe is one of the few ways I can eat arugula and not make that scrunched up face you always make when you eat something distasteful. The only other time I find it remotely acceptable on my plate is when it's cutting through the richness on top of pizza or a delicious homemade burger.
And I know as a good nutritionist I should be eating it and lauding it's bitterness as a great digestive aid, but I just can't. It taints every salad it touches and so to me, hiding it in a creamy pesto was the only way forward!
You may find it weird that someone who has such strong opinions on arugula is a dyed in the wool cilantro fan, but here we are. I'm a mass of walking contradictions. I will say also if you're not a fan of cilantro, that this pesto somehow takes both the arugula and cilantro and through some alchemy turns them into something completely different and unbelievably delicious!
To really balance out the flavours of this pesto I used my Confit Garlic Aioli as the base, instead of a regular olive oil. You can find that recipe right here. However, if you want to save some steps you can sub the confit garlic aioli for 4 cloves of garlic and 1 cup of olive oil. I've included instructions if you want to use that option.
Alright, let's get to the goods!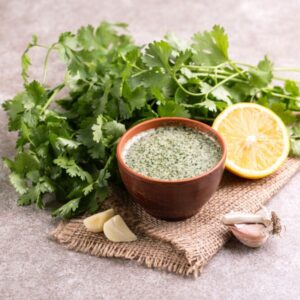 Creamy Cilantro Arugula Pesto Recipe
This paleo-friendly pesto uses cilantro & arugula w/ limes & garlic aioli to make a creamy, sweet & sour sauce that you could put on everything!
Keyword:
Dairy Free Cilantro Pesto Recipe, Dairy-Free Pesto Recipe
Ingredients
1.5

cups

toasted pumpkin seeds

use any nut or seed you like!

4

shallots

rough chopped

3

limes

juice & zest

2

tbsp.

maple syrup

2

cups

cilantro

loosely packed

1

200 g

package arugula

3/4

cups

confit garlic aioli

see attached recipe

1/2

tsp.

sea salt
Instructions
Add pumpkin seeds, shallots, lime zest & juice, and maple syrup to food processor.

Roughly chop cilantro & arugula and add to food processor.

Pulse together until pumpkin seeds are slightly broken down and cilantro & arugula are starting to blend in.

Add confit garlic aioli & sea salt and pulse together. You want to leave the seeds slightly chunky so don't blend too long.

Remove from food processor and let sit in the fridge for a couple of hours before serving.
If Not Using Confit Garlic Aioli
Add 4 cloves of garlic, rough chopped to food processor with other ingredients.

Instead of adding in 3/4 cup aioli add 1 cup olive oil and blend under chunky, but all ingredients incorporated together.

Remove from food processor and let sit in the fridge a couple of hours before serving.
Well friend, that's my recipe for today! I hope you enjoy it. And I just published a great little guide with my Top Ten Tips to Banish Belly Bloat, which you can download right here!
As always, thank you for your love and support. Please stay safe and take care of one another!
Cait xo