Hi friend! I hope you're having a wonderful first few days of fall. I am enjoying the gentle transition from the heat and movement of summer, to the slower, coziness of fall. The rain today is perfect for my afternoon plans of binge reading a Louise Penny Inspector Gamache book. They are so good, I can never put them down. They also make me incredibly hungry and make me want to move to the Eastern Townships of Quebec to live off of cheese and jam for the rest of my days.
While today's recipe isn't a croissant filled with butter and jam, it is still super comforting, cozy, and the perfect delicious meal for fall: Dairy-Free Creamy Cauliflower, Leek, & Bacon Soup. 
Now I've had variations of this soup made with potatoes, cream, and all manner of other delicious things. Unfortunately, however, my sensitive little tummy doesn't do dairy very well (the last time I ate ice cream it looked like I was smuggling a basketball under my incredibly fitted skirt…) and I'm pretty sensitive to carbs, as in too many make me tired and bloated (Thanks PCOS), so I wanted to find a way to get the creamy decadence without the side-effects. Luckily, if you add enough delicious fat to a thing it can make it seem like all those things are in there too. And so, this soup is chock full of sweet, sweet bacon fat.
Because you are using so much of the fat from the bacon it is even more important that you use a high quality source. You see, mammals store toxins in their fat cells. So if you have a pig that's been living in a stressful environment, being fed an unnatural diet, and loaded up with antibiotics chances are pretty high that they aren't going to be the healthiest pig on the block. Like humans, their piggy livers are going to be over burdened and so their bodies will start storing excess toxins in their fat cells. Which you will then be eating if you buy conventionally raised bacon.
On the other hand, if you buy bacon from a pig that's been allowed to roam indoors and outdoors, display it's natural behaviours thereby preventing stress, and eat an omnivorous diet that promotes health and well-being, well then that bacon is going to be leaps and bounds better for you than the alternative. And as a bonus you will be supporting the farmers who not only care for their animals, but also the planet, which is really a win-win-win for everyone involved. So spend an extra couple of dollars on the good stuff and make sure this soup is as nourishing and delicious as possible.
As a note, I want to let you know that this soup can easily be made plant-based friendly by swapping out the bacon fat for olive oil and using smoked paprika to get that delicious smokey flavour. It'll be slightly different, but still delicious!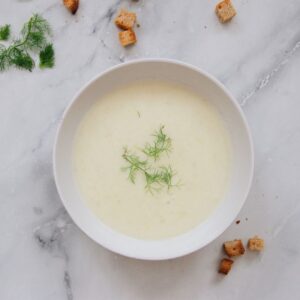 Dairy-Free Creamy Cauliflower, Leek, & Bacon Soup Recipe
This delicious dairy-free Cauliflower, Leek, & Bacon soup recipe combines the smokey, saltiness of bacon with the creaminess of cauliflower and leeks to create a filling meal that hugs you from the inside out.
Keyword:
Dairy-Free Creamy Cauliflower and Bacon Soup
Ingredients
½

lb.

pastured, nitrate-free bacon

2

tbsp.

bacon fat*

1

white onion

chopped

1

leek

chopped

7

cloves

of garlic

minced

2

cups

celery

chopped

1

medium cauliflower

chopped

5

cups

water or broth

1

tsp.

sea salt

¼

tsp.

white pepper

¼

tsp.

thyme

Optional:

½

tsp.

smoked paprika

½

tsp.

red chili flakes

½

tsp.

apple cider or rice vinegar

1

tsp.

maple syrup
Instructions
Heat a large saucepan over medium.

Cut bacon into small pieces and add to saucepan, cooking until fairly crisp. Remove bacon from saucepan and set aside, leaving fat behind.

Add leeks and onions to bacon fat and let them cook, covered, until softened and starting to caramelize slightly, approximately 5 minutes. You can chop the rest of your veggies during this time.

After five minutes add garlic and celery, recover and let cook for another minute.

Add cauliflower, water, sea salt, white pepper, and thyme, stirring until combined. If using, add the paprika and chili flakes here.

Cover and let simmer 20 minutes or until cauliflower is easily pierced with a fork.

Remove from heat, puree using a handheld or venting blender.

Add a splash of apple cider vinegar, maple syrup, and the cooked bacon. Let heat another couple of minutes then enjoy!
Recipe Notes
* Just use all the fat rendered from the bacon. No need to measure it out. 
* To make this soup vegetarian-friendly, sub the bacon fat for 2 tablespoons of olive oil and use 1/2 to 1 teaspoon of smoked paprika to give it that smokey taste. 
Well friend, that's our indulgently healthy, deliciously smokey soup goodness for the day.
If you need any extra support on your health journey, I've put together a FREE 7-Day Anti-Inflammatory Meal Plan & Shopping List that you can download right here. 
As always, thank you for your love and support!
Cait xo