Hello friends!
There seems to be a theme in the Nourished kitchen lately… all things treats! Which is strange actually because I've always preferred salty snacks to sweet treats. But anyhoo, today's delicious little morsel was one of my love day creations that I tested out on some of my girlfriends who said, and I quote, "My god these are addictive!" Now sometimes I don't really like the texture of shredded coconut in my treats, so if you want to leave them out just add in some extra pecans, since the coconut butter and oil will still give you all the awesome flavour.  Let's check out what we've got going on in these bad boys!

Pecans
I absolutely adore toasted pecans. They get this delicious buttery sweetness to them that is almost impossible to stop eating! Luckily, they're a wicked source of monounsaturated fatty acids, such as oleic acid, that are great for supporting our heart health.
Pecans also contain something called ellagic acid, which is a type of polyphenolic antioxidant that has been shown to inhibit DNA binding of certain carcinogens (cancer-causing substances) such as nitrosamines and polycyclic aromatic hydrocarbons, thereby protecting our sweet cells from potential damage.
Coconut Palm Sugar
This sweetener is a great alternative to sugar because it contains a good array of minerals and has a lower effect on blood sugar than a lot of other sweeteners out there. That being said, always practice restraint with any added sweeteners as a sugar by any other name is still going to have the same effect in large quantities.
Coconut
Hmmmm I think this may have shown up in some of my recipes before… but with good reason! Coconut in all its forms is a fantastic source of MCTs, which are a type of fat that are preferentially burned as fuel by the liver and help our bodies use stored fat for energy. If you want more info on coconut check it out in this post.
Chocolate
Awesome source of antioxidants, contains tons of magnesium, and may be the most delicious food ever. Need more be said?
Alrighty folks, let's take a look at the recipe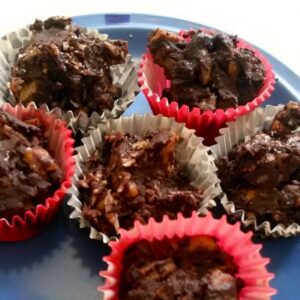 Chocolate Pecan Coconut Clusters Recipe
This recipe combines blood-sugar balancing proteins, healthy, fats, & complex carbs in a delicious little mouthful. Packed with pecans, coconut, & chocolate, it's a decadent treat that will nourish your body & soul!
Keyword:
Healthy Chocolate Clusters Recipe
Ingredients
1/2

cup

chopped pecans

1/4

tsp.

sea salt

1

bar

100% dark baking chocolate

I like Camino's

1

tbsp.

coconut butter/creamed coconut

1

tbsp.

coconut oil

1/4

cup

maple syrup or coconut palm sugar

1/4

cup

unsweetened shredded coconut
Instructions
Warm a small frying pan over medium heat.

While frying pan warms, set out ~12 mini muffin cups on a baking sheet or plate.

Add pecans to frying pan with sea salt and stir until toasted and fragrant, about 3 minutes. Remove from frying pan and set aside.

Place water in a double boiler over medium-high heat. A double boiler is basically a pot over which you place another, slightly smaller pot or metal mixing bowl. Be careful not to fill the pot to the point where the water touches the bottom of the top bowl as this can cause your chocolate to burn.

Cut the bakers chocolate into small pieces and then add to double boiler, stirring constantly as it melts.

Once melted add the coconut oil, coconut butter and sweetener of choice and mix together. You may want to taste here to make sure it's sweet enough. If not, add a little extra sweetener if needed.

Next add the pecans and coconut, mixing thoroughly.

Drop a spoonful of the mixture into each mini muffin cup and then place batch in fridge or freezer to set for about 15-20 minutes.
So there we have it! Delicious little fat bombs guaranteed to satisfy your chocolate craving without totally messing with your blood sugar, thanks to the combo of protein (pecans), carbs (maple, honey, or coconut sugar), and fat (coconut, pecans).
Well friend, that's our recipe for today! I hope you enjoy it. And I just published a great little guide with my Top Ten Tips to Banish Belly Bloat, which you can download right here if you need a little extra digestive support!
As always, thank you for your love and support. Please stay safe and take care of one another!
Cait xo