Hi friend! I hope you've been having a wonderful Spring so far! I've been a little quiet around the blog lately because I've been working so hard behind the scenes to get my new website up and running. I absolutely love the bright new colours and easier navigation to make working with you so much easier!
I've finally started settling into the swing of things after my move back to the East Coast at the beginning of the month and decided I wanted to share one of my new favourite simple and delicious energy ball recipes with you.
A lot of my clients are always on the lookout for quick and easy snack ideas and I am absolutely obsessed with all things matcha lately, so thus these treats were born! Matcha is a beautiful powdered tea made from young green tea leaves and it is jam-packed with antioxidants that are so helpful for managing inflammation and keeping you looking healthy and glowing!
It is also an excellent source of L-theanine, which is a specific grouping of glutamate molecules that can help you feel focused and alert, while still remaining calm. Matcha is a great option for people who feel jittery or anxious when they drink coffee, but are still looking for something to help them stay focused and naturally energized throughout the day. 
You can get matcha by making delicious Stress Busting Lattes or Immune Boosting Elixirs, or you can try throwing together this super simple recipe to get your matcha fix on the go!
These little Vanilla Matcha Cashew Bombs are the perfect combo of sweet and chewy with that great matcha flavour that's bright and a little tiny bit bitter. I'm officially obsessed. Check out the recipe below!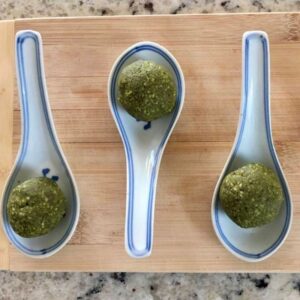 Vanilla Matcha Cashew Energy Bombs Recipe
These little Vanilla Matcha Cashew Bombs are the perfect combo of sweet and chewy with that great matcha flavour that's bright and earthy. 
Keyword:
Matcha Energy Balls Recipe
Ingredients
1.5

cups

raw cashews

½

cup

shredded coconut

2

tbsp.

matcha powder

pinch

of sea salt

½

cup

soaked dates

2

heaping tbsp. coconut oil

1

tsp.

vanilla
Instructions
Blend together cashews, coconut, matcha, and sea salt until a crumbly texture is achieved. Remove from mini food processor and place in a mixing bowl.

Blend together dates, coconut oil, and vanilla until smooth.***

Add date mixture to cashew mixture and combine by hand. Then roll out into little balls and place in the freezer to set.

Enjoy!
Recipe Notes
***Notes: You may want to add a bit more sweetener, so 1 tbsp. of raw honey should do the trick. They also taste best when left to set over night!
And remember, if you need any extra support to help start 2022 feeling strong and healthy, you can contact me right here to see whether private or group nutrition coaching might be right for you.
I'm registered with the Canadian Association of Naturopaths & Naturotherapists, so I can offer insurance receipts to folks with Naturopath coverage who live in New Brunswick, PEI, Quebec, or Newfoundland. The only companies I can't issue receipts for are Blue Cross and Industrial Alliance.
Personalized Wellness Planning: Best for folks who have specific health conditions they want to focus on such as PCOS, hormonal imbalances, inflammatory bowel diseases, IBS, etc.
Foundations of Nutrition Private Coaching: Best for folks who want to learn about the foundational concepts of nutrition such as blood sugar balance, probiotics, leaky gut syndrome, inflammatory vs. anti-inflammatory fats & oils, and anti-inflammatory eating. These private sessions will offer an opportunity for use to dig into your personal questions and find some targeted areas to focus on.
Foundations of Nutrition Small Group Coaching: Best for folks who want to learn the foundations of nutrition as mentioned above, but who don't necessarily need personalized recommendations. It's also an affordable 4-week option. The price is lower since you don't get the same level of personalization, but you do get the support of a group.
One-And-Done Check In: I don't have an official page for these sessions, but they are 1-hour check in sessions. I take a look at your food and mood journal and an intake form you fill out prior to our session. We figure out areas that you're rocking and support areas that could use a little bit of lovin'. These sessions are $100/hour and include a follow up action step plan with everything we discussed during our session, plus any additional tweaks that I think would help.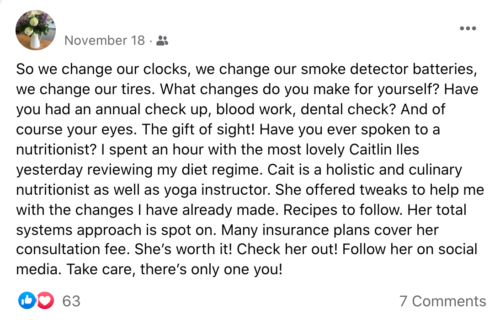 As always, thank you for your love and support and have the best 2022!!
Cait xo