Hi friend! I hope you've been having a lovely week. I hosted an incredible day retreat in Davidson over the weekend and it went so well I'm working on bringing these little days of self-love and self-care to communities all around Saskatoon. So if you're interested in bringing me out for a day of gentleness and delicious food, just pop me a message!
After my busy day in Davidson, on Sunday I decided to curl up with a fresh pressed juice and some videos from the Academy of Culinary Nutrition. I like to go through and watch the videos at the same time as my students so that we can be on the same page when it comes to marking assignments and chatting during our weekly check ins. This week we are learning all about Healing Elixirs and Tonic Herbalism and I was so inspired by the videos that I whipped up this little drink.
When you're healing your body and working hard to bring it back into balance every single thing you eat or drink can help you build health. By taking something traditional, such as hot chocolate, and jazzing it up with herbs and spices you can take a delicious drink and turn it into a potent healing elixir. Today I wanted to focus on creating a drink that is incredibly healing for those suffering from Candida overgrowth, but that can be enjoyed by anyone looking to get more healing herbs into their life.
Rather than use plain hot water, Josh and Meghan, focus on upping the ante by using herbal teas or decoctions as the base for our healing drinks. Since this drink is focusing specifically on candida, I chose pau d'arco because it has long been used in herbal medicine as an anti-fungal (candida is a yeast fungus) and studies show that it preferentially inhibits the growth and proliferation of pathogenic bacteria while leaving our healthy probiotic population undisturbed.  I also find the taste of this tea is mildly sweet and goes really well with chocolate!
I chose cayenne to provide a punch of heat to warm us up on these cold fall days and also because it has been show to have anti-fungal properties, which means it can help kick candida to the curb! The second spice I chose was one of my all time favourites, turmeric! This spice is a great anti-inflammatory and it's active component, curcumin has been shown to be an effective analgesic (pain reliever!) and much safer than NSAIDs like Advil and Tylenol. In addition to these wicked health benefits it is also showing promise as a potent anti-fungal, making it an awesome addition to a Candida treatment plan.
Now, even though the focus of this drink is to help rebalance the digestive system and body from a candida overgrowth, that doesn't mean that those of you who aren't actively fighting this imbalance can't enjoy it, as all of these ingredients have powerful properties that can benefit anyone!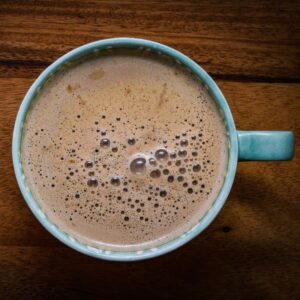 Candida Busting Pau D'arco Hot Chocolate Recipe
This hot chocolate recipe is perfect for people fighting off a candida infection as it contains the anti-fungal tea pau d'arco, capryllic acid from the coconut milk, and infection fighting herbs such as turmeric and cayenne.
Keyword:
Candida Fighting Hot Chocolate Recipe
Ingredients
2.5

tbsp.

raw cacao

1/8

tsp.

cayenne

½

tsp.

turmeric

½

tsp.

vanilla

¼

cup

full fat coconut milk

1.5

cups

pau d'arco tea*

2

tsp.

manuka honey*
Instructions
Boil hot water and brew 1 cup of pau d'arco tea using loose leaf or a tea bag.

In a large mug add raw cacao, cayenne, and turmeric, whisking together until combined.

Add coconut milk and vanilla and whisk until fully incorporated.

Pour in pau d'arco tea and stir together. Sweeten with stevia if going candida cleanse friendly or honey/maple if you just want a spicy sweet bevvie!
Recipe Notes
* Feel free to sub this for ginger tea, chaga tea, licorice tea, etc. if not drinking specifically for anti-candida benefits! 
* Manuka honey or stevia is best for those on a candida cleanse. If not cleansing, feel free to use regular honey, maple, organic sugar, or pop it in a venting blender and use some dates! 
Well friends, that's our recipe for today. Enjoy curling up with a warm mug and watching your favourite show.
And if you're looking for some more plant-based inspiration in the kitchen you can try out my FREE Build Your Own Buddha Bowl Cooking Class right here! You'll receive a recipe guide, shopping list, & equipment list plus a demo on how to make Turmeric Coconut Rice, Glory Bowl Dressing, & Sweet & Salty Roasted Chickpeas. Get the class here!
As always, thank you for your love and support. Please stay safe and take care of one another!
Cait xo