Hi friend! I hope you've been having a beautiful week. It's been hovering around 30C here in Saskatoon and I have been soaking up the sun and enjoying every minute of it! Since I've been back from Ottawa I started a 40 day yoga challenge with Clancy Sullivan. I'm really excited to kick my practice up a notch, but I'm even more excited for the other aspects of our lives we're focusing on.

Aside from practicing every day, we are encouraged to adapt a daily meditation and pranayama practice (breathing exercises) and we are giving up one perceived negative habit and replacing it with one positive habit. I've decided to forgo shopping for the next 40 days, aside from groceries, and I've added a daily walk. Since I've been back I've met all my goals, but it's only day 3 so stay tuned for updates!
Over the past few years I've been able to add quite a few healthy habits to my daily routine. You can check out some of my favourite morning habits right here. One of my morning favourites is this Matchaga Latte.
Thanks to my time at the Academy of Culinary Nutrition I learned that one of the best ways to start my day is with a nourishing and naturally energizing elixir.
My current favourite is one I call the Matchaga Latte. It combines the super potent antioxidant benefits of matcha green tea, with the immune support of chaga, and the energizing medium chain fats of coconut milk to keep your metabolism humming and your body healthy and strong all day long.
In fact, I'm drinking one as I type up this post! It's super easy to make and a great way to give yourself a punch of nutrients first thing in the morning.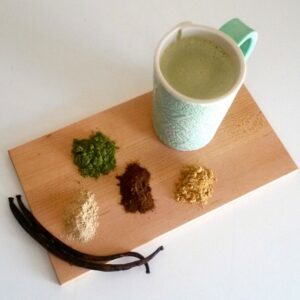 Immune Boosting Matchaga Latte Recipe
This recipe combines the potent antioxidant benefits of matcha green tea, with the immune support of chaga, & the energizing medium chain fats of coconut milk.
Keyword:
Vegan Matcha Latte Recipe
Ingredients
1/2

tsp.

matcha powder

1/2

tsp.

chaga powder extract

can use chaga tea or a few drops of tincture

1/2

tsp.

ginger powder

1/2

tsp.

ashwagandha powder

optional

1/4

cup

full fat coconut milk

1/2

tsp.

vanilla extract

1.5

cups

boiled water

could also use licorice, ginger, or chaga tea base

1/2

tbsp.

honey or maple syrup

if you have a high speed blender try using 3 dates
Instructions
 Whisk together matcha, chaga, ginger, Ashwagandha, coconut milk, and vanilla in a large mug until a smooth paste forms. If you have a venting blender add all ingredients to the blender and buzz together.

Pour hot water into mug and whisk together.
Well friend, that's my recipe for today! I hope you enjoy it. And I just published a great little guide with my Top Ten Tips to Banish Belly Bloat, which you can download right here if you need a little extra digestive support!
As always, thank you for your love and support. Please stay safe and take care of one another!
Cait xo