Hello friend! I hope you're enjoying this slow transition from fall to the deeper, darker months of winter. This year I'm trying something new and instead of fighting against the slower pace and darker days of winter, I'm embracing it with both arms. And it has honestly been going better than I could have imagined. This year is probably the most balanced and happy I've been going into the dark season for my entire life.
Since getting home from the retreat I co-facilitated earlier this month, I've been eating lots of warm, slow-cooked foods (see the recipe below!) to ground my energy and help me feel cozy from the inside out. I've also been embracing the darkness, rather than fighting it or complaining like I always used to do. Now I get out for my walk just around sunset and when I get home, I put on my soft lighting (check out the Dollarama for some great Edison bulbs!) and get cozy with the kitties and some dinner.
Lately, I've been turning off the lights and watching Christmas movies and shows by candlelight with Muggies so it feels very cozy and snuggly. And my god, I have been sleeping like a baby! I've always been someone who has struggled with my sleep. Even when I do everything "right," it often still alludes me for ages.
But I think by embracing the darker evenings, turning off harsh lights, and setting up the Night Light feature on my laptop and iPhone to take the blue light out of my screens at night I am falling asleep earlier, staying deeply in rest all night long, waking up earlier, and feeling so refreshed.
So I guess this week my little suggestion to you is: How can you embrace the shift in habits and patterns that come with the change in seasons? What routines don't work on the shorter, darker days? What can you invite in that works with the slow, restful, darker winter season? 
And if you want some support on that journey, you can book a coaching session with me where we can look at what sorts of habits and foods you need to carry you through the winter season. I'm now offering two types of plans:
Personalized Wellness Planning: perfect for folks with specific health conditions that they are trying to support through foods, herbs, and lifestyle shifts.
Foundations of Nutrition Private Coaching:  perfect for folks who don't have a specific health concern or condition they want to focus on, but instead are interested in learning the basics of nutrition. From this foundation you can create the way of eating that best supports your body.
Just email caitliniles@live.com and we can set it up! I can offer insurance receipts for all New Brunswick plans if you have naturopath coverage (except Blue Cross and Industrial Alliance). Here's to the dark season!
Something I've been incorporating into my winter routine is lots of healing herbs, delicious, foods, and cozy nightly rituals to embrace the darkness and support my body and soul and I'm feeling better than I ever have at this time of year. What can you do to do feel same? One of the things you can try is incorporating this immune-supporting mushroom broth into your winter cooking schedule!
Chaga Mushroom is an adaptogen. 
Adaptogenic plants and mushrooms help to bring the body back into balance and have beneficial effects on the nervous system, immune system, the GI tract, the cardiovascular system and the endocrine system. 
They are generally considered safe to take long term.
By supporting the body and mind in these ways, adaptogens help us to cope with stress, stay healthy during the cold and flu season, and help lift us out of the dark depths of adrenal burnout. 
They have immune-modulating properties that make them helpful in treating auto-immune diseases and have high levels of antioxidants that protect cells from damaging free radicals. 
Adaptogens gently tone and support the body systems over time and need to be taken for a minimum length of two months to develop the full effect of their healing powers.
I love using this broth to make rich sauces, delicious mushroom risottos, to cook my rice or quinoa, as a base for wintery stews, or you can use it to up the mushroom flavour in my Vegan Creamy Dreamy Mushroom Soup recipe!
Let's get to the recipe!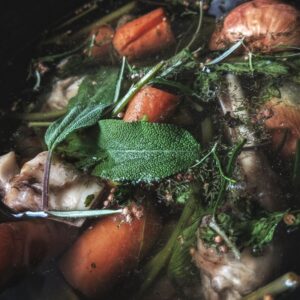 Immune Supporting Mushroom Broth Recipe
This rich, flavourful broth uses a variety of mushrooms including chaga, shiitake, & crimini to create an immune-supporting broth perfect for your soups & stews.
Ingredients
1

tbsp.

olive oil

1

white onion

diced

1

bulb

garlic

separated and crushed

3

celery stalks

roughly chopped

1

carrot

roughly chopped

1

cup

crimini mushrooms

roughly chopped

1

cup

shiitake mushrooms

1

oz.

dried mixed mushrooms

1

tbsp.

chaga mushroom or 1 inch chunk

1

tbsp.

fresh herbs like sage, thyme, or rosemary

1

tbsp.

balsamic vinegar

1

tbsp.

sea salt

8

cups

water
Instructions
For An Instant Pot
Turn your Instant Pot to sauté function and add olive oil.

Add onions and garlic to the pot, stir, and cover for 2-3 minutes.

Stir again then add celery and carrots. Combine and cover for 2-3 minutes.

Add mushrooms, herbs, vinegar, sea salt, and water, stirring everything together.

Put on the lid and ensure the vent is set to seal. Turn function to manual and set for 60 minutes at high pressure.

You can let the steam release naturally or manually.

Strain the broth and enjoy!
For Stock Pot
Heat your saucepan over medium.

Add olive oil, onions, and garlic to the pot, stir, and cover for 2-3 minutes.

Stir again then add celery and carrots. Combine and cover for 2-3 minutes.

Add mushrooms, vinegar, herbs, sea salt, and water, stirring everything together.

Raise heat to high and bring to a boil. Once boiling, reduce to simmer and let cook for 3 to 4 hours.

Strain the broth and enjoy!
Recipe Notes
Can be used as a base for soups, stews, cooking grains, and risottos.
Well friend, that's our recipe for today! I hope you enjoy it. And if you're looking for some more inspiration in the kitchen you can try out my FREE Build Your Own Buddha Bowl Cooking Class right here!
You'll receive a recipe guide, shopping list, & equipment list plus a demo on how to make Turmeric Coconut Rice, Glory Bowl Dressing, & Sweet & Salty Roasted Chickpeas. Get the class here!
As always, thank you for your love and support. Please stay safe and take care of one another!
Cait xo