Hello friend! I hope you've been having a beautiful week and are enjoying the first few days of summer! It's pretty typical that with the warmer weather comes a more active social life and a desire to be outside as much as possible, which means way less time in the kitchen. Enter my crowd-pleasing Super Simple Sweet Summer Fennel, Leek, and Walnut Slaw that's jam-packed full of nutrient goodness and provides a perfect satisfying fresh crunch to any meal.
I've made this salad for pretty much every retreat I've ever done because it takes virtually no time to prepare and it makes you seem super fancy and creative because many people who've tried it have never used raw fennel or leeks in a recipe.
It's a great one for when you're trying to meal prep because, so long as you don't add the dressing until you serve, it keeps quite well in the fridge for several days in an airtight glass container. Before I get down to business let's take a look at some of the nutrient superstars featured in this recipe.
Apples An apple a day keeps the doctor away is an age-old adage that is founded in sound nutrition. Apples contain some great nutrients that help balance our blood sugar and boost our immune function.
Certain polyphenols in apples have been shown to decrease the absorption of glucose in the digestive tract. If you're absorbing less of the glucose you're consuming it won't have as much of an impact on your blood sugars, which means less chance of a spike after a meal.
Apples also contain quercetin, which helps boost our immune system and inhibits enzymes, such as alpha-amylase and alpha-glucosidase, involved in the breakdown of complex carbohydrates into simple sugars.
Again, if your body has fewer simple sugars to deal with your blood sugar will be much more likely to remain in a stable, healthy range helping prevent inflammation, mood swings, and food cravings.
Fennel I must admit I was a complete newb when it came to fennel up until last spring when my boss at the time gave me a free bulb to try out. Ever since then I've been completely hooked and have busted out this sweet, crunchy veggie on many a social occasion much to the delight of those present.
Fennel is an excellent source of vitamin C, an important antioxidant and component of cell renewal and it contains other antioxidants such as quercetin and rutin that play an important role in keeping you healthy.
Studies suggest that the most exciting component of fennel is a phytonutrient called anethole, which has been shown to decrease inflammation and potentially protect the liver from toxic chemical injury. It's got a delicious, licorice-like flavour that adds great taste to sweet or savory dishes.
Leeks Leeks are one of my all-time favourite vegetables! You can think of them as a green onion to the extreme in terms of size, taste, and nutrient profile. They are amazing cooked (try my delicious Luscious Leek and Onion Soup) and when they're eaten raw add a delicious kick to any salad.
Leeks are a great source of kaempferol, which is flavonoid that has been shown to protect the walls of your blood vessels from oxidative damage. They are also a great source of folate, a B vitamin that helps keep homocysteine levels in the body balanced thereby helping protect your heart from disease.
Folate is also a crucial nutrient in proper fetal development and the prevention of neural tube defects such as spina bifida. If you're contemplating making babies in the future ,add some delicious leeks to your diet to ensure you've got all baby's nutrient needs covered.
Walnuts I think you've likely heard somewhere about the benefits of vitamin E. What is less well known is that there are actually 8 different forms of this vitamin, all of which play important roles in your body.
Walnuts contain quite a high amount of a specific form called gamma-tocopherol, which some studies suggest may provide cardio-protective benefits.
These nuts are also a great source of minerals such as potassium, magnesium, and calcium; essential fatty acids, such as Alpha Linolenic Aicd; and rare phytonutrients such as quinone juglone, the tannin tellimagrandin, and the flavonol morin. Incorporating small amounts of walnuts in your meals is a great way to increase nutrient variety.
Alrighty, now that you know the nutrient powerhouses that are the key ingredients it's time to figure out how to put them all together to make a masterpiece! ?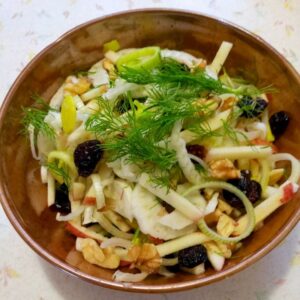 Super Simple Fennel, Leek, and Apple Slaw Recipe
This light, fresh, and crunchy salad makes the perfect side dish for heavy BBQ dishes or fancy dinners.
Keyword:
healthy summer salad
Ingredients
1

medium leek

1

medium fennel bulb

1

apple

½

cup

of crushed walnuts

1-2

tbsp.

cup dried currants or cranberries

optional
Instructions
Cut the leek in half lengthwise.

Slice leek halves into thin half moons and add to large salad bowl.

Cut the hard bottom and the fronds off the fennel bulb. Discard the bottom but hang onto the fronds.

Cut the bulb in half and slice into thin ¼ cm strips. Add to salad bowl.

Slice the fronds into thin rounds, retaining some of the leafy greens to garnish the final product. Discard the very end and any parts that have branches protruding from them since they can be quite tough.

Julienne (meaning cut into thin strips) the apple—I like to use a mandolin with a julienne attachment.

Add apples, walnuts, and cranberries to the bowl, tossing until mixed.

Top with salad dressing of choice and serve!
Well there you have it friend! A delightfully delicious salad to sustain you all summer long. Once you've got it all combined you can eat it as a salad, put it in a wrap, or use it as a sandwich topper.
And remember, if you need any extra support to help start 2022 feeling strong and healthy, you can contact me right here to see whether private or group nutrition coaching might be right for you.
I'm registered with the Canadian Association of Naturopaths & Naturotherapists, so I can offer insurance receipts to folks with Naturopath coverage who live in New Brunswick, PEI, Quebec, or Newfoundland. The only companies I can't issue receipts for are Blue Cross and Industrial Alliance.
Personalized Wellness Planning: Best for folks who have specific health conditions they want to focus on such as PCOS, hormonal imbalances, inflammatory bowel diseases, IBS, etc.
Foundations of Nutrition Private Coaching: Best for folks who want to learn about the foundational concepts of nutrition such as blood sugar balance, probiotics, leaky gut syndrome, inflammatory vs. anti-inflammatory fats & oils, and anti-inflammatory eating. These private sessions will offer an opportunity for use to dig into your personal questions and find some targeted areas to focus on.
Foundations of Nutrition Small Group Coaching: Best for folks who want to learn the foundations of nutrition as mentioned above, but who don't necessarily need personalized recommendations. It's also an affordable 4-week option. The price is lower since you don't get the same level of personalization, but you do get the support of a group.
One-And-Done Check In: I don't have an official page for these sessions, but they are 1-hour check in sessions. I take a look at your food and mood journal and an intake form you fill out prior to our session. We figure out areas that you're rocking and support areas that could use a little bit of lovin'. These sessions are $100/hour and include a follow up action step plan with everything we discussed during our session, plus any additional tweaks that I think would help.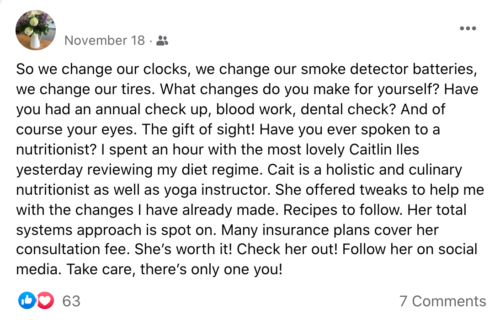 As always, thank you for your love and support and have the best 2022!!
Cait xo