Hi friend! I hope you're having a fabulous week! I feel like I've been working non-stop the last few weeks and I'm starting to feel a little tired. Luckily I've got a nice relaxing weekend planned and I've been keeping up with my batch-cooking and meal prepping magic to keep my healthy eating on track, even when I have very little time!
So far I've whipped up my favourite Cabbage Roll Soup, some GF almond bread, lots of chicken thighs, and I always make sure I have cleaned and prepped veggies in the fridge to throw together a quick side.
This week's recipe makes a big batch that you can freeze or keep in the fridge for a quick and easy protein source. 
They're packed with quinoa and lentils for a complete source of plant protein and the spices and herbs are totally customizable based on personal preference. I think they taste absolutely amazing with my Avocado Ginger Lime Dressing, but you can use anything from Glory Bowl Dressing to Baba Ganoush or a Tahini Yogurt Dipping Sauce! Get creative and customize it to your own tastes. You can have them on their own or crumble them over a salad, pop em between some buns for a little burger, or however piques your fancy at the time!
Enjoy!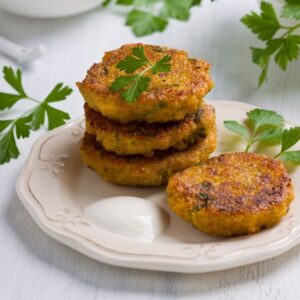 Crispy Gluten-Free Quinoa Cakes Recipe
These protein-packed quinoa cakes are the perfect option for a hearty, nourishing, and delicious vegetarian meal!
Ingredients
1.5

cups

quinoa

uncooked + 2 ¾ cups water + pinch of sea salt

½

cup

dry red lentils or split peas + 4 cups water + pinch of sea salt

3

eggs

1

bunch

green onions

chopped

¼

cup

tahini

1

tbsp.

mustard

½

tsp.

turmeric powder

1

tsp.

cumin

1

tsp.

coriander seed powder

1

tsp.

garlic powder

1

tsp.

sea salt

pepper

¼

cup

tapioca flour

¼

cup

coconut or chickpea flour
Instructions
Preheat oven to 400F and line a large baking sheet with parchment.

Cook the quinoa with water and a pinch of sea salt. Bring to a boil then reduce to a simmer for 15-20 minutes. Do not remove the lid while simmering. Once 15 minutes is up fluff with a fork and let cool.

Cook the split peas with water and a pinch of sea salt. Bring to a boil and then simmer until soft. Strain and set aside.

Combine quinoa, lentils, egg, green onions, tahini, mustard, and spices together.

Add flour and mix thoroughly.

Form into small patties and place on baking sheet.

Bake for 15 minutes then flip over and bake another 10-15 minutes until crisped on the outside.
Well friend, that's our recipe for today! I hope you enjoy it. And if you're looking for some more plant-based inspiration in the kitchen you can try out my FREE Build Your Own Buddha Bowl Cooking Class right here! You'll receive a recipe guide, shopping list, & equipment list plus a demo on how to make Turmeric Coconut Rice, Glory Bowl Dressing, & Sweet & Salty Roasted Chickpeas. Get the class here!
As always, thank you for your love and support. Please stay safe and take care of one another!
Cait xo

Image Credit: Shutterstock