Hello friend! I hope you've been having a beautiful week! It's been super chilly again in Saskatoon, but luckily I've been going to the studio every day for the 30-Day Yoga Challenge, so I'm not nearly as stir-crazy as usual during this cold snap.
There's something about the cold weather that always makes me want to roast all the things and so today's recipe is super simple and super delicious.
This salad combines delicious roasted root veggies, like beets & yams, with fresh greens, toasted pumpkin seeds, and crisp red onion for a roasty, toasty, savoury, sweet masterpiece! I've included links to some of my favourite salad dressing recipes and I think any one of them would be a perfect accompaniment.
You can make this salad ahead of time for the week too by layering the different ingredients in a mason jar starting with the roasted veggies, then the hardier fresh veggies, the greens, and finally the pumpkin seeds on top. Just hold off on the dressing until just before serving to keep it fresh and crisp in the fridge for several days. Enjoy!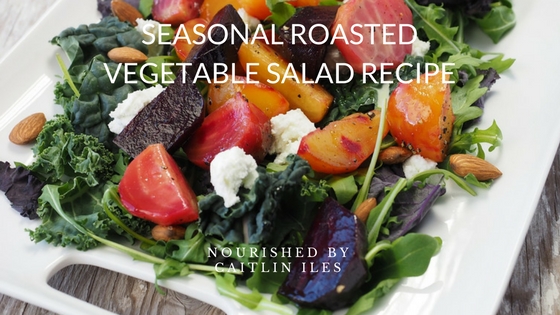 Seasonal Roasted Vegetable Salad Recipe
This salad combines delicious roasted root veggies, like beets & yams, with fresh greens, toasted pumpkin seeds, & red onion for a savoury/sweet masterpiece!
Ingredients
2

small/med sweet potatoes

3

large beets

use different colours for different health benefits and flavours!

1

tbsp.

olive oil

½

tsp.

sea salt

pepper to taste

1

carrot

2

celery stalks

diced

¼ to ½

red onion

diced

½

cup

pumpkin seeds

4

cups

favourite mixed greens

1

tbsp.

dried currants or blueberries

dressing of choice

see options below!
Optional: crumbled goat feta and/or 2 cups of cooked quinoa
Instructions
Preheat oven to 385F and line a large baking sheet with parchment paper.

Wash sweet potatoes and beets. Cut into cubes and place on baking sheet. The smaller you chop them the crispier they will be, so there is a lot of chance to play with texture here.

Coat with olive oil, sea salt, and pepper and spread in a single layer.

Bake for 15 minutes then remove from oven, stir around, and bake for another 15 minutes until crispy on the edges.

While sweets and beets are cooking heat a small frying pan over medium.

Add pumpkin seeds and toast until browned and popping, about 5-7 minutes, stirring consistently. You will want to keep your eyes on them so they don't burn.

Remove sweets and beets from oven and set aside to cool.

Place mixed greens into a large salad bowl.

Using a cheese grater, shred the carrot and place in a salad or serving bowl.

Cut celery. I typically will slice the stalk into half or thirds then chop into bite-sized pieces. Add to carrots

Dice onion. Add to veggies.

Add pumpkin seeds and currants to veggies.

Once sweets and beets are cooled, add to serving bowl and mix thoroughly. Top with homemade vinaigrette of choice (see below!).
Recipe Notes
This mixture is also delicious with an added cup or two of cooked quinoa and goat cheese! You could also try using toasted almonds, walnuts, or pecans if pumpkin seeds aren't your jam. Keep them whole or chop them up!
Delicious Dressing Options:
Easy Vegan Tahini Lemon Salad Dressing
Awesome Blossom Apple Balsamic Vinaigrette
Pretty in Pink Grapefruit & Red Onion Vinaigrette
Well there you have it friend! A delicious, filling seasonal salad to see you through these chilly days of winter.
And remember, if you need any extra support to help start 2019 feeling strong and healthy, make sure you download my FREE Anti-Inflammatory Meal Plan & Shopping List right here!
As always, thank you for you love and support!
Cait xo