Hello friend! I hope you've been having a great 2018! I haven't been writing much on my own blog as I've been putting together some more in-depth articles for sites such as Herb Affair, but I thought it was about time to hope back onto Nourished and share a new recipe!
Lately I've been absolutely obsessed with legume based pastas I've been getting from Costco. They're made from 100% legume (so things like red lentil, chickpea, or green peas!) so they're not nearly as carb heavy as regular pastas, which makes them a great addition to a whole foods diet. One of the first things I teach my clients is the importance of maintaining stable blood sugar throughout the day to keep energy levels high and stave off chronic disease.
They are also much higher in protein and fibre than regular pasta, which can go a long way to meeting your daily requirements, especially if you're a vegan or vegetarian babe! It's also so important to ensure that you're getting enough fibre to feed your fabulous microbiome so that you can prevent leaky gut and keep your immune system humming along like a rockstar!
I've been whipping up a simple little pan sauce to go with them that only takes about 10 minutes and is sure to impress the palate! It's so easy and perfect for the night's you get home from work, yoga, trivia, the gym, or any other funtivity that piques your fancy and don't want to put in a ton of effort to have something delicious. It's also ridiculously customizable based on what you have on hand, so use this recipe as a starting place to flex your creative muscles and build some confidence in the kitchen!
Without further ado, let's get to the good stuff!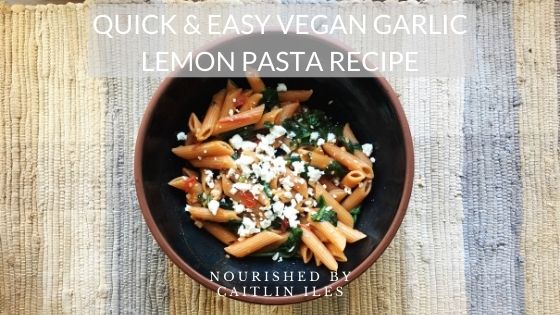 Quick & Easy Garlic Lemon Vegan Pasta Recipe
This recipe is super quick, simple, and fresh. Packed with protein and tons of flavour it's the perfect comforting, yet light, meal to throw together after a long day.
Ingredients
4

cups

water

1.5

tsp.

sea salt

splash olive oil

1

cup

Tolerant Legume-Based pasta

1

tbsp.

extra virgin olive oil

1

tbsp.

butter

just use extra olive oil for a vegan option

1

bulb of garlic

roughly chopped

2

cups

cherry or grape tomatoes***

cut into halves or quarters

1/2

tsp.

sea salt

2

cups

broccoli

cut into small florets

2

cups

spinach

roughly chopped

1/2 to 1

lemon

juiced (depends how much you like lemon!)
Instructions
Add water, sea salt, and olive oil to a saucepan and bring to a boil. Once boiled add pasta.

While water is warming, heat a large frying pan over medium. Add a couple tbsp. butter (just add extra EVOO for a vegan option!) and olive oil. Don't be afraid!

Cut up 1/2 to 1 full BULB of garlic into rough pieces. Add to olive oil and cover so that it softens.

Add chopped fresh tomatoes, a couple pinches of sea salt, broccoli florets, and cover again. I've been loving using sweet little cherry and grape tomatoes cut into small pieces.

Cook the pasta to al dente (slightly hard) texture, drain, rinse, and set aside. This takes approximately 5-7 minutes. Just check a noodle with your fork!

Once broccoli and garlic are soft and tomatoes have started to break down add a couple cups of chopped spinach. You may need to add a little more olive oil at this stage. Let the spinach wilt

Add pasta, stir to coat, and cook a minute or so. Squeeze the juice of 1/2 to 1 lemon over top, then remove from heat and serve.
Recipe Notes
*** You can also use regular tomatoes! 
Bonus Tip: Tastes great topped with goat cheese or nutritional yeast! You can also add some roasted chicken, seared tofu, tempeh, or fish to round out the meal!
Well friend, there you have it! A super quick, uber tasty dinner you can throw together in no time at all!
And if you're looking to take your health to the next level, but struggle with what to eat, then make sure you download my FREE 7-Day Healthy Detox Meal Plan right here! 
Thanks for stopping by and have a splendid day!
Cait xo