Hi friend! I hope you've been having a splendid week. It's been a pretty full week for me, work-wise, which I absolutely love! And yesterday I started a functional fitness and yoga flow class, which totally kicked my ass. If you've read this post or this post you know how much I dislike working out in a gym; however, those workouts were usually intended  for the sake of vanity and were mind-numbingly repetitive and ineffective at creating real strength and endurance.

Though I do yoga several times a week, I was finding that my cardio was a little… lacking. As in I went to jog down by the river and was winded pretty quickly. Yikes! So one of the awesome teachers at the studio is offering this Fit & Flow class for the month of June so I signed up and had my first class yesterday. Let's just say that I was already feeling it during the warm up, but I powered through and today I'm feeling nice and sore… which means soon I'll feel super strong, right?
Anyway, with all this fitness and work coming at me from every angle I decided it was time to treat ma self with some sweet delights in the form of a mini molasses cake. Full disclosure, when I started playing around with this recipe it was intended to be muffins, but in a sort of happy accident it turned into these delicious, frostable cakes. Sometimes kitchen mishaps really pay off, so don't be afraid to get dirty and make mistakes!
These little goodies are completely grain- and dairy-free, low in sugar, full of spices to help promote blood sugar balance and immunity, and they contain lots of healthy medium chain triglycerides from the coconut oil & milk to help promote a healthy metabolism.
This means that though these are definitely still a TREAT and not a meal, they are a much better option than what you'd pick up at the grocery store. Plus if you make it with the Coconut Cashew Cream Cheese Icing  you're going to get a hit of health-promoting probiotics. Or if you want to try something a little different, then this Goat Cheese Frosting is one of my favourites (to eat by the spoonful).
Everybody wins! So without further ado, lets dive into this two-parter recipe.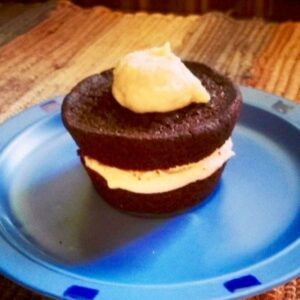 Mini Molasses Cakes
These mini paleo-friendly molasses cakes are chewy & delicious. Try them paired with the tangy vegan coconut cashew cream cheese icing! Or see the link to my favourite goat cheese icing below.
Keyword:
Gluten Free Molasses Cakes REcipe, Healthy Molasses Cakes
Ingredients
Dry Ingredients
1

cup

tapioca flour

1/2

cup

coconut flour

1

tbsp.

ginger

2

tsp.

cinnamon

1

tsp.

baking powder

1/2

tsp.

sea salt
Wet Ingredients
1

cup

coconut oil or butter

1

cup

molasses

1/2

cup

coconut palm sugar or dry sweetener of choice

2

tsp.

vanilla

1/2

cup

coconut milk
Instructions
In a medium mixing bowl stir together all dry ingredients: tapioca flour, coconut flour, ginger, cinnamon, baking powder, and sea salt.

In a separate bowl whip together all wet ingredients EXCEPT COCONUT MILK: coconut oil, molasses, palm sugar, eggs, and vanilla until combined.

Slowly add dry ingredients into bowl of wet ingredients. Add 1/3 dry, combine, then next 1/3 & combine, then final 1/3 and combine.

Once combined, mix in coconut milk.

Fill muffin cups 3/4 of the way full.

Bake for 20 minutes, then rotate. Check the middle to make sure still soft.

Bake another ten minutes or until middle is firm, but still depresses slightly to the touch.

Remove from oven and let cool in tin 5 minutes then place on cooling rack.

Once cooled, cut in half and fill with coconut cashew cream cheese icing.

Place a dollop on top & enjoy!
Vegan Coconut Cashew Cream Cheese Frosting
This frosting uses a fermented cashew cream cheese base to provide a tangy, probiotic-rich topping perfect for cakes and muffins!
Keyword:
Vegan Cream Cheese Frosting Recipe
Ingredients
1.5

cups

cashew cream cheese- see link below

2

tsp.

vanilla

2

tbsp.

honey or maple syrup

1

tbsp.

tapioca flour/starch
Instructions
In a mixing bowl whip together all ingredients until fluffy using a hand held mixer.

Place in fridge to cool and firm.

Use as a frosting on cakes and cookies.