Hi friend! I hope you've been having a splentastical week! I spent the weekend visiting some of my wonderful friends, playing boardgames, and eating lots of delicious food, so today was spent running errands, grocery shopping, meal prepping for the week, and suchnot. I've been doing an elimination diet protocol which means some of my favourite protein sources, eggs, beef, and pork, are off the menu. This has forced me to get a little bit more creative with my recipes and meals.
With that in mind I've been buying a lot of whole fish and roasting them up because not only is it SUPER affordable (I got an entire wild caught coho salmon for under $9) but it's also a great way to have leftovers throughout the week. However, fish with lemon and shallots gets a little boring after day three so I looked in my fridge and thus this recipe was born as a delicious sauce to slather over all the things!
I like using traditionally fermented, organic miso as a condiment in my cooking because it is a great source of probiotics, which you know are the key to maintaining optimal digestive and immune function. These beneficial bacteria help digest foods that your enzymes are unable to digest and in the process they create helpful vitamins such as B vitamins and vitamin K, healthy short-chain fatty acids, and other beneficial nutrients that promote optimal health.
They are also so helpful because they can actually help train our immune systems. As you know about 70% of our IS is located in your digestive tract in the form of the GALT: Gut Associated Lymphoid Tissue, and it relies on messages and interaction with our microbiome to be properly trained and also to prevent it from being in a constant state of attack.
Eating probiotic foods is a great way to keep the balance of good to bad bacteria on the health-promoting side, as when you get an imbalance in bad bacteria and yeast you are more prone to digestive upset, inflammation, chronic colds & flus, eczema, and a whole host of icky issues. Consuming a couple different probiotic foods daily is a great way to keep the bacteria in balance and promote a healthy immune environment. You can check out some recipes here!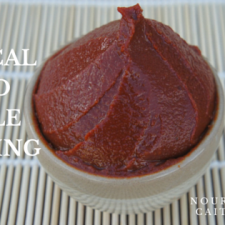 Magical Miso Maple Dressing Recipe
This dressing combines the healing powers of miso with the sweetness of maple to create a perfectly balanced sweet and salty dipping sauce.
Ingredients
2

heaping tbsp. miso paste

3

tbsp.

rice vinegar

2

tbsp.

apple cider vinegar

1

clove

garlic

½

tbsp.

mustard

2

tbsp.

maple syrup

½

cup

olive oil

Optional: ¼ tsp. toasted sesame oil
Instructions
In a glass bowl or blender combine miso, rice vinegar, apple cider vinegar, garlic, mustard, and maple syrup.

Blend together until smooth using a handheld or standup blender.

Slowly drizzle in olive oil and sesame (if using) until smooth. If you want a thinner dressing add water until desired consistency is obtained.

Enjoy!
Recipe Notes
This dressing tastes great served over fish, stir fries, quinoa, rice, etc.!
Well friend that's our recipe for today.
And remember, if you need any extra support to help you feel strong and healthy, make sure you download my FREE Anti-Inflammatory Meal Plan & Shopping List right here! 
Thanks for stopping by!
Cait xo