Hello friend! I'm going to ramble a bit about our current situation and the drive to be super productive before we get to the recipe so feel free to click the jump to recipe button above (I gotchu covered), otherwise, thanks for reading!
I'm not sure about you, but I'm definitely finding it hard to be as productive as I normally am right now. I try to do some work every day and some days I am really productive and creative. Other days my brain is a literal potato. And all the messaging on Instagram and Facebook about taking this time to learn new languages, organize your entire life, and bake Pinterest worthy loaves of bread can feel a little tone-deaf at times as we collectively adapt to our current reality.
We are currently experiencing a global trauma the likes of which our current generation has never seen, so guess what? It's ok if you're not at your most productive or working on self-improvement. Firstly, telling everyone they should be doing this belies a level of privilege that not everyone has. Secondly, taking care of your mental and physical health (and those of the people you love by staying home) is the priority right now.
It's more than ok to feel happiness and joy and creativity right now, but like everything else, try not to force it on others or shame them for not feeling the same way. Maybe you thrive on having lots of projects to work on or you're a natural born crafter or you do feel a little more space and time to commit to some other goals you wanted to work on and that's frickin' fabulous if that's you!
But if it's not, please, please, please do not beat yourself up. We are all coming to this from different contexts and with different fears and worries. And if you're finding a lot of the people you're following online are causing you to feel guilty or otherwise unhappy with yourself, maybe hit the unfollow button for a little bit. You can easily hit refollow at any time. A good focus for the time being is self-compassion, being gentle with yourself, and supporting your mental health in whatever way works for you right now. Follow people who inspire you in a positive way, do things that  help you feel calm, and most importantly listen to your needs on a day-to-day, moment-to-moment basis because, if you're anything like me, they surely change regularly.
Personally, I've flown through 4 different variations of a really trashy (but oh so addictive) TV show called The Circle (US, UK, Brazil, & France. If you're wondering my ranking it goes: UK, France, Brazil, US). Some days I stay up super late watching romcoms because my mind is a little anxious and other days I sleep in really late (like REALLY late) because frankly I'm tired and snuggles with my kitty are just what I need. I do have a loose schedule to my days because personally I find that structure helpful and soothing, but there is a lot of leeway and wiggle room.
I still workout a few days a week, take time to cook yummy meals, and make sure I get out on a walk everyday, but these are habits I developed long before a global pandemic came knocking and, in all honesty, if I didn't already have them in place, I'm not sure I would be motivated to start them right now. 
And surprise, surprise something else that makes me feel really good is cooking and eating delicious food. You may have noticed a theme around here lately: yoga and baking. Again these are things that I've been really connected with and loved for a very long time so they work for me. Your "something" might be very different and that's A-OK! If you are interested in trying out new recipes or building some new skills my advice is to start small and build a solid foundation. Maybe don't try to bake elaborate French Patisserie if you've never made cookies though the results could be quite hilarious and fun if you do, so ultimately do what makes you happy.
All of this is just to say: you are doing amazing! There's no roadmap for this experience and we're all just doing the best that we can. So let's just remember that and be kind to ourselves and one another. 
Alright, ramble over. Now to the food! These blondies brought me so much joy and happiness I can't even describe it. I was actually sad last night when I ate the last one. They're also really easy to make and super customizable. Feel free to add mre chocolate, less chocolate, more coconut, lemon, whatever your heart desires! Enjoy! <3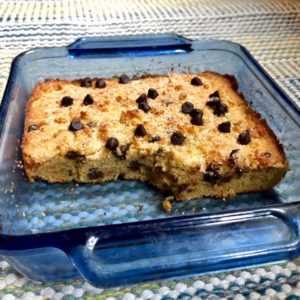 Grain-Free Chickpea Chocolate Coconut Blondie Recipe
These grain-free, chewy, & delicious blondies are the perfect snack! Packed with protein, fibre, and just the right amount of sweetness they'll leave you feeling satisfied & happy!
Keyword:
Grain-Free Blondie Recipe, Healthy Blondie Recipe
Ingredients
Wet Ingredients
1.5

cups

cooked chickpeas

or 400g can

2

eggs

try using chia eggs for a vegan option

1

tbsp.

vanilla

1/2

cup

butter or coconut oil

softened

1/3

cup

maple syrup
Dry Ingredients
1/4

cup

almond flour

1/4

cup

tapioca flour/starch

1/4

cup

coconut flour

1/4

tsp.

sea salt

1

tsp.

baking powder
Add Ins
1/2

cup

chocolate chips

divided into 1/4 and 1/4 cups

1

tbsp.

shredded coconut
Instructions
Preheat oven to 375F and grease a brownie pan with coconut oil or butter. Set Aside.

In a food processor blend all wet ingredients until smooth.

In a mixing bowl add all dry ingredients together and stir until combined.

Add wet ingredients to dry ingredients and mix until fully incorporated.

Stir in 1/4 cup of chocolate chips.

Spread mixture evenly into the brownie pan.

Top with shredded coconut and remaining chocolate chips.

Place in oven and bake for 45 minutes. I take them out at this point so they are a little chewy in the centre. You can bake an additional 10 minutes for a firmer texture.

Let cool 5 minutes and then enjoy!
Recipe Notes
If you're subbing out the flours and not using coconut flour you will likely want to use 1 cup total of added flour. Coconut flour is really high in fibre and absorbs a lot of moisture, which other flours do not do to the same degree. 
If you're subbing out the chocolate chips for a different add-in you may want to up the maple syrup to 1/2 cup to make up for the missing sweetness.
Well friend, that's my recipe for today! I hope you enjoy it. And remember, if you need any extra support to help you feel strong and healthy, you can download my FREE Anti-Inflammatory Meal Plan & Shopping List right here! 
As always, thank you for your love and support. Please stay safe and take care of one another!
Cait xo