Hello friend! It's been a while since I hopped on the old blog. I'm such a summer baby that I tend to spend as much time outside exploring and enjoying the sunshine as I possibly can while it's here. And we have such a short season on the East Coast I like to soak in every moment and get as much Vitamin D as I possibly can.
Since the weather started getting crisper, I've been getting myself back into the kitchen, recording an online cooking class (it's based off my Healthy Thai! You can take a peek here!), plotting out the next classes I want to record, coaching with the Academy of Culinary Nutrition, hosting my online restorative yoga classes, teaching at an awesome new studio in Saint John, and just generally getting my buns back into gear.
With all these fun new projects on the go I've been a little busier. And while I'm not generally a snacker, I've been needing a little something something to fuel all the projects and keep me going between meals. Thus the recipe for Chewy Cashew Collagen Cookie Bites was born!
My cousin (Hi Scott!) inspired this recipe when he wouldn't stop raving about a raw cookie he gets from his local shop every morning. I wanted to try making my own version and he tested it out for me with feedback that it's better than the one he gets from the store. I wanted to keep it super simple so it's completely no bake and the ingredients are limited. If you're not a chocolate chip fan you can always sub them out for dried fruits, nuts, or whatever else floats your boat!
Health Benefits of Collagen
The reason I included collagen in these little energy balls is for the protein content, but also for the specific health benefits from collagen. About 1/3 of the protein in the body is made of collagen, which is a complex structural protein and the primary building block for the body's cells and tissues.
It's an important fibre in the connective tissue throughout the body, most noticeably (but not necessarily importantly) in the face. There are 27 different types of collagen, but types 1-3 make up about 85-90% within the body.
Type 1 is the most abundant and gram for gram is stronger than steel! It makes up dentin (a component of your teeth), skin, tendons, ligaments, vascular tissue, organs, and bones.
Type 2 makes up 50% of the protein in cartilage so it is very important for joint health. It also plays a role in eye health, making up the vitreous humour of the eye.
Type 3 is the second most abundant source of collagen in the body and is found alongside type 1 in skin, muscles, blood vessels, intestines, and the uterus. It yields gelatin when boiled.
Collagen is an incredible bioavailable source of protein, meaning it's easily absorbed, so it can be a great addition for folks who have digestive issues. You can read a little bit more about a few of the health benefits in this post.
One of the main proteins found in collagen is glycine, which is an amino acid not commonly found in abundance in other types of meat consumed by omnivores. It has many studied health benefits including building healthy DNA strands, supporting joint health, enhancing stomach acid production (again awesome for those who have digestive issues), and improving sleep quality (try taking 3 grams before bed!).
Collagen can be found in:
Cartilage 
Ligaments 
Skin
Eyes
Blood Vessels
Hair
Bones
Tendons 
Muscles
Teeth
Intestines
Nails 
Connective Tissue
As you can see, collagen provides important building blocks for the whole body, so taking in a little extra is always helpful, especially considering most of us no longer eat nose to tail so we're not getting the naturally occurring sources of collagen in our diets. To build collagen in your body you will also need adequate Vitamin C. I often take a capsule before eating/drinking anything with collagen in it for that extra little boost.
Ok, now that I've sufficiently talked your ear off let's get to the recipe!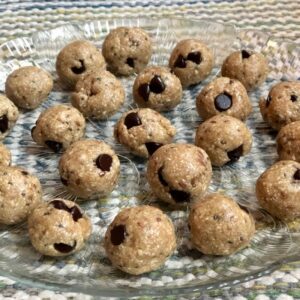 Gluten Free Chewy Cashew Collagen Cookie Bites
Keyword:
Gluten Free Cookie Bites, Healthy Cookie Bites
Ingredients
1

cup

rolled oats or oat flour

1

cup

cashews

1/2

cup

collagen powder

*see below for vegetarian option

1/4

tsp.

sea salt

1/4

cup

maple syrup

2

tsp.

vanilla

1/4

cup

chocolate chips

* see below for other options
Instructions
Using a food processor (I like a small multiblade one from Ninja), the dry container on your high speed blender, or a coffee grinder (cleaned out!) buzz the rolled oats into a flour. Don't be afraid of over-grinding! Pour into mixing bowl.

In the same container, once emptied, add the cashews and buzz them until you achieve a sticky, flour-like consistency. Again don't be afraid of over-grinding as the oils that are released from the cashews will help the balls stick together. Add to oat flour mix.

Add collagen and sea salt to mixing bowl with the oat and cashew flours and stir together.

Pour in maple syrup, vanilla, and chocolate chips. Mix together with a rubber spatula until a sticky dough forms.

Take about a tablespoon of mix and roll it into a ball. Place on a plate. Repeat until dough is gone.

Can be stored in a container at room temperature or in the fridge.
Recipe Notes
*If you are vegetarian or vegan you can sub the collagen for 1/4 cup extra of each the oat and cashew flours. 
*Feel free to substitute the chocolate chips for any other add in you'd like such as dried currants, cranberries, or blueberries, You could also use cacao nibs, nuts, seeds, or anything else that piques your fancy!
Well friend, that's our recipe for today! I hope you enjoy it. And I just published a great little guide with my Top Ten Tips to Banish Belly Bloat, which you can download right here if you need a little extra digestive support!
As always, thank you for your love and support. Please stay safe and take care of one another!
Cait xo