Hello friend! I hope you've been having an excellent Fall season! It's been pretty hectic around here what with my Warrior Women's Retreat in Christopher Lake and two TV segments (check them out here and here!) in addition to working with my fabulous clients.
I'm starting to feel really settled in my new/old home thanks to my great network of friends and yoga community. Last night on of my besties and I went to a Women in Business event where we watched a screening of Dream, Girl, which is a movie all about kick-ass female entrepreneurs. Needless to say I'm feeling super fired up and excited about continuing my work and creating special programs, events, and recipes for you!
Since I was feeling so fired up, I wanted to share a brand-new recipe with you that I tested out at one of my private cooking classes last month. It was a HUGE hit and a great spin on a classic brownie recipe.
The black beans add a lot of creaminess, protein, and fibre to these bad boys so you can feel pretty guilt-free (not that you should ever be attaching guilt to the food you eat. What a waste of energy!) about indulging in them at breakfast time. I also like to use tapioca starch/flour, which adds some lightness and holds the brownies together.
You want to make sure that you really puree the black beans in this recipe to keep from having any full bean chunks in the final product. It's east to do with a little mini food processor, so I would recommend using that as opposed to egg beaters in this recipe.
If you want to make these brownies vegan-friendly, just swap out the eggs for a chia egg option (see instructions below!) and then everyone can enjoy these sweet treats.
Enjoy!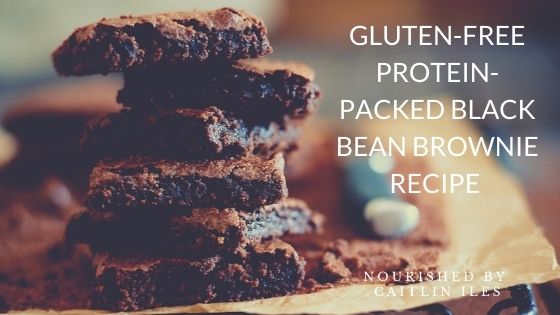 Gluten-Free Black Bean Breakfast Brownies Recipes
These protein-packed brownies are the perfect fudgey, delicious start to your day!
Ingredients
1

can black beans

rinsed and drained

2

eggs or chia eggs*

¼

cup

coconut oil

melted

2

tsp.

vanilla extract

½

cup

maple syrup

¾

cup

cocoa powder

¼

cup

tapioca flour

½

tsp.

baking powder

pinch

of sea salt

½ to ¾

cup

chocolate chips
Instructions
Preheat oven to 325F.

Grease an 8x8 baking pan and set aside.

Place black beans, eggs, coconut oil, vanilla, and maple syrup in a food processor and blend until smooth.

In a mixing bowl combine cocoa powder, tapioca flour, baking powder, and sea salt.

Add wet mixture to dry mixture and stir to combine.

Add chocolate chips then pour into baking pan spreading mixture evenly. If you have more chocolate chips you can sprinkle some over the top.

Place in oven and bake for about 25-30 minutes until middle springs back when pressed.

Remove from oven, cool, and enjoy!
Recipe Notes
*To make a chia egg combine 1 tbsp. ground chia seeds with 1/4 cup warm water and let sit for 2 minutes, then use in place of eggs in any baking recipe!
Well friend, there you have a sweet treat that you can feel absolutely 100% guilt-free eating for breakfast!
And remember, if you need any extra support to help you feel strong and healthy, you can download my FREE Anti-Inflammatory Meal Plan & Shopping List right here! 
As always, thank you for your love and support. Please stay safe and take care of one another!
Cait xo