Hello friend! There's something about colder weather that makes me want to eat all the baked treats. And I have a deep and abiding love for all things cookies as evidenced by the plethora of recipes on my site (you can check some of them out here: Chewy Double Chocolate Fudge Cookies, Vanilla Lemon Shortbreads, Chocolate Chip Almond Butter Cookies, Snickerdoodles, Ginger Spice Cookie, or Oatmeal Chocolate Chip Cookies).
With the holidays approaching and the likelihood that they may look a little different this year, I figure why not fill up with comforting treats? I find the process of baking just as soothing as stuffing my face with the delicious results and it gives me something fun to do while I hang out at home, so win-win!
This week's recipe is for a basic, but super delicious, chocolate chip cookie, which I have apparently never created before. I used a blend of almond and tapioca flours (tapioca starch is the same thing) to make this batch, but I am confident that if you wanted to make them nut-free AND grain-free you could sub out the almond flour for sunflower flour or cassava flour, which I've discussed before in this recipe for Caramelized Banana Bread.
I accidentally left the cookies out overnight uncovered and they got a really nice little crispy crunch to them, so that was a happy little accident if you like your cookies with more of a snap versus a squishy middle.
Let's get to it!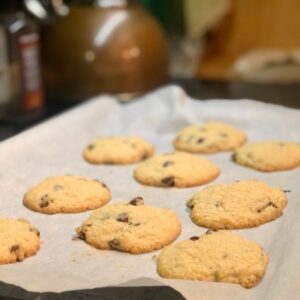 Grain-Free Chocolate Chip Cookie Recipe
This gluten-free, grain-free, paleo-friendly cookie recipe uses a blend of almond flour and tapioca flour to create a crunchy, sweet, & delicious treat packed with chocolate chips.
Keyword:
Gluten-Free Chocolate Chip Cookie Recipe,, Grain-Free Cookie Recipe, Paleo Friendly Cookie Recipe
Ingredients
Dry Ingredients
1 & 1/4

cups

almond or cassava flour

3/4

cups

tapioca flour/starch

1

tsp.

baking powder

1/4

tsp.

sea salt
Wet Ingredients
1/2

cup

butter or coconut oil

1/2-3/4

cups

coconut palm sugar or dry sweetener of choice*

1

egg, large

2

tsp.

vanilla
Instructions
Preheat oven to 350F and line 2 large baking sheets with parchment paper.

Mix dry ingredients in a medium mixing bowl.

In a separate bowl use egg beaters to cream together butter and coconut palm sugar until fluffy.

Add egg and vanilla to wet mixture and continue mixing until thoroughly combined.

Stir dry ingredients into wet ingredients until full combined.

Add chocolate chips and stir throughout mix.

Using two spoons take about one heaping tbsp. of mix per cookie leaving 2 inches between each.

Once on the baking sheet lightly press down the centre of the cookie until it's flattened.

Place in the oven and bake for 13 minutes for a softer cookie or 15-17 for a crispier option. Edges will begin to turn a light brown.

Remove from oven and let cool on the tray for a couple minutes before transferring to a cooling rack.
Well friend, that's our recipe for today! I hope you enjoy it. And I just published a great little guide with my Top Ten Tips to Banish Belly Bloat, which you can download right here if you need a little extra digestive support!
As always, thank you for your love and support. Please stay safe and take care of one another!
Cait xo