Hi friend! I hope you've had a splendid week! I've been pretty busy organizing another Warrior Women's Wellness Weekend with Jenn, marking all my students' brilliant assignments at the Academy of Culinary Nutrition, and doing a presentation on Healing with Whole Foods at the Saskatoon Public Library. Now that the weather is getting colder, I think it's time to start eating copious amounts of soup and so in keeping with that theme, this week's recipe is a delicious vegan cream of mushroom soup.
Now to be perfectly honest, I don't actually really like mushroom soup but it is one of my best friend's favourites so I wanted to create a recipe she would enjoy and this one got an enthusiastic two thumbs up from her in between slurps. And since creating this recipe, I have to say that mushrooms have become one of my favourite foods. If you want to take your soup to the next level, then you'll definitely want to use my Immune Boosting Mushroom Broth recipe as the base!
Mushrooms are well-known for their immune modulating and supportive benefits, so using different types of mushrooms will ensure you get a broad range of health benefits. I like a mixture of crimini, shiitake, and portabello, but use your favourites to customize your perfect blend. I hope you enjoy!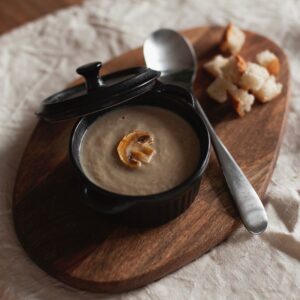 Vegan Creamy Dreamy Mushroom Soup Recipe
Ingredients
10

cups

mushrooms of choice- portabello

crimini, shiitake, etc.

2

tbsp.

olive oil

1

yellow onion

roughly chopped

6

cloves

of garlic

minced

3

tsp.

thyme

3

tsp.

sage

3

tsp.

coriander seed

3

celery stalks

roughly chopped

2

tsp.

sea salt

4

cups

of mushroom broth

see note below or water

3

bay leaves

2

cups

coconut milk

1

tbsp.

arrowroot or tapioca starch

1

tsp.

apple cider vinegar

splash of maple syrup
Instructions
Heat a large saucepan over medium heat.

While it's heating slice your mushrooms. Don't worry too much about the size or shape.

After a few minutes rub a mushroom cap against the bottom of the pan. If it squeaks, add the mushrooms to sauce pan without oil and let them toast. They will begin to darken and start to release liquid.

Once the mushrooms begin to brown and soften add olive oil, onion, garlic, thyme, sage, and coriander seeds. Stir to combine.

Add celery and cover. Let these veggies simmer and meld together for about 2 minutes.

Add the sea salt, broth or water, and bay leaves to the party and stir.

Turn heat to high and bring soup to a boil before turning down and allowing it to simmer for 15 to 20 minutes.

Whisk tapioca starch together with about 2 tbsp. water and add to soup pot.

Add coconut milk and give it a little zip with your immersion blender you can make it as smooth or chunky as you like!

Return to the stove and add a splash of vinegar and maple syrup and possibly more sea salt.

Let it simmer for 5 minutes.

Enjoy!
Well that's my warm and cozy recipe for today friend. If you love my recipes and are looking for a little extra support to help you stick to your health eating goals, I'd love to support you 1:1!
I'm registered with the Canadian Association of Naturopaths & Naturotherapists, so I can offer insurance receipts to folks with Naturopath coverage who live in New Brunswick, PEI, Quebec, or Newfoundland. The only companies I can't issue receipts for are Blue Cross and Industrial Alliance.
If you are curious as to whether we'd be a good fit to work together, you can contact me right here! 
And if you're looking for some more inspiration in the kitchen you can try out my FREE Build Your Own Buddha Bowl Cooking Class right here!
You'll receive a recipe guide, shopping list, & equipment list plus a demo on how to make Turmeric Coconut Rice, Glory Bowl Dressing, & Sweet & Salty Roasted Chickpeas. Get the class here!
Thanks for reading friend! Have a wonderfully whimsical day!
Cait 🙂
Thanks for stopping by 🙂
Cait xo