Hi friend! I hope you've had a fabulous weekend. I've been enjoying a quiet weekend reading and resting, getting out for walks, watching shows, and making some delicious snacks. One of the things I'm making for snacks this week is one of my all-time favourite recipes from my cooking class days so I wanted to share it with you. Today's recipe is perfect for those salty, crunchy, sweet, and crispy cravings that sometimes pop up: Sweet & Salty Roasted Chickpeas!
I've made these at tons of cooking classes over the past few years and they are kid and adult approved. You can easily eat them as a blood-sugar balancing snack or use them as a topper for your favourite salad. Thanks to the fibre and protein content of the chickpeas you won't see the crazy spike and resultant crash in energy that you will get from chippies or other processed treats.
I'm all about making small, sustainable changes over the long term to lead to the body and health that you desire. So by swapping out some of your processed snacks with healthier options such as these chickpeas (or my super awesome Double Chocolate Fudge Cookies) you can feel confident that you are taking the positive steps to make your goal a reality. Now without further ado, snack on friend! Snack on!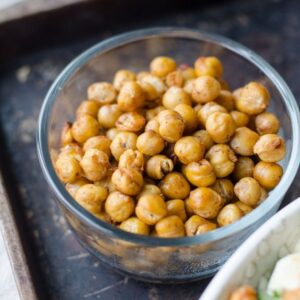 Ingredients
1

large can chickpeas

rinsed and drained

1

tbsp.

olive oil

¼

cup

nutritional yeast

feel free to add more!

1

tbsp.

coconut palm sugar

½

tsp.

sea salt
Instructions
Preheat your oven to 375F.

In a bowl combine chickpeas, olive oil, nutritional yeast, coconut palm sugar and sea salt.

Spread the mixture in a single layer onto a parchment paper lined baking sheet.

Place in oven and roast until crispy, approximately 60 minutes, turning every 20 minutes. The longer you let them roast, the crispier they will get.

Allow your chickpeas to fully cool before placing in a sealed container. If they soften, you can crisp them back up in the oven.
Well friend, that's our crispy, crunchy, sweet, and salty snack for today. Thanks for stopping by!
And if you are looking for some extra inspiration and support, I'm registered with the Canadian Association of Naturopaths & Naturotherapists, so I can offer insurance receipts to folks with Naturopath coverage who live in New Brunswick, PEI, Quebec, or Newfoundland. The only companies I can't issue receipts for are Blue Cross and Industrial Alliance.
If you are curious as to whether we'd be a good fit to work together, you can contact me right here! 
Thanks for reading friend! Have a wonderfully whimsical day!
Cait 🙂