Hello friend! I hope you're having a beautiful fall! I've been loving the changing seasons and watching the leaves fall. It always turns me so introspective and makes me excited for taking a million baths and reading a million books.
Right now I'm in the middle of an incredible book by Megan Crabbe from Bodyposipanda called Body Positive Power: How to Stop Dieting, Make Peace With Your Body, and Live. 
If you've followed me for a while, then you know that I have a history of extreme dieting & exercise, binging & purging, and have been working to heal my relationship with my body for many years.
Reading books such as these that focus on the core belief that all bodies, regardless of health status, size, colour, ability, sex, etc., etc., etc. are worthy of being loved and celebrated just as they are are so incredibly powerful. They remind me of my own struggle, but also that so many of the amazing people who come to me are working hard to heal a damaged relationship with their body and that it's my responsibility to create a safe and supportive environment for them to do so.
I am a firm believer that there are so many other more important measures of health than the number on the scale and creating delicious, nourishing food for your body to enjoy is one of my favourite ways to help support that health.
This post likely should have been about the benefits of fermented foods, but honestly you can just read about that here. I think it's more important that you learn to foster a loving relationship with your body and the foods you consume.
So if you're struggling with that area of your health, then may I humbly recommend taking a peek at the book and possibly downloading my Stop Self-Sabotage Workbook to get you started.
Now without further ado, here's a delicious recipe for fermented blueberries! I tested it out on the guests at my fermentation workshop last night and it was a HUGE hit!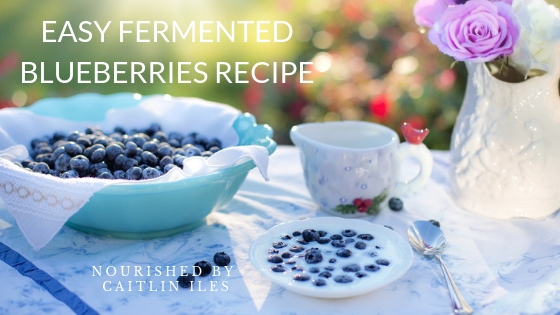 Fermented Blueberries Recipe
This recipe can be adapted to make use of any berry you want to preserve for fresh deliciousness all winter long! It tastes great on homemade coconut milk yogurt, sprinkled onto salads, or eaten by the spoonful. You can also use the liquid in salad dressings!
Ingredients
2

cups

wild or organic blueberries

¼

cup

apple cider vinegar

1

tbsp.

maple syrup

organic cane sugar, or honey

pinch

of sea salt
Instructions
Add all ingredients to a 500ml mason jar and stir to combine.

Lightly mash the blueberries with the handle of a wooden spoon.

Place a piece of parchment paper over the mouth of the jar then seal with the lid.

Place on the counter for 7 days (you may want to stir the berries with a clean wooden spoon every couple of days) then move to the fridge and enjoy!
Well friend, that's the recipe for today! I hope you enjoy it!
If you're looking for some extra support in making healthy changes to the way you eat make sure you download my FREE 7-Day Anti-Inflammatory Meal Plan & Shopping List that you can download right here. 
As always, thanks for your love and support!
Cheers,
Cait