Hi friend! I hope you've been having a lovely week so far. It feels like fall is truly in the air here in Saskatoon and with that coolness comes the desire for nourishing, warm, and grounding foods. The other day my roommate made some pakoras and they looked and smelled delicious, but since I'm participating in my Love Your Healthy Self Nutrition Program chickpeas are off the table for me (not everyone needs to eliminate them; I just find they make me rather… gassy). Rather than accept defeat, I decided to make my own pakoras using a blend of coconut and tapioca starch. I think they were rather successful too, if I do say so myself!
The Indian-inspired spice blend is designed to warm us up from the inside out and the eggs not only bind the pakoras together, but also provide a punch of complete protein and healthy fats.
These bad boys are delicious as a side dish, dipped in various types of curry, or dipped in this Avocado Green Onion Dressing or Tahini Yogurt Dipping Sauce to create a deliciously complete meal of its own.
Let's get to the good stuff!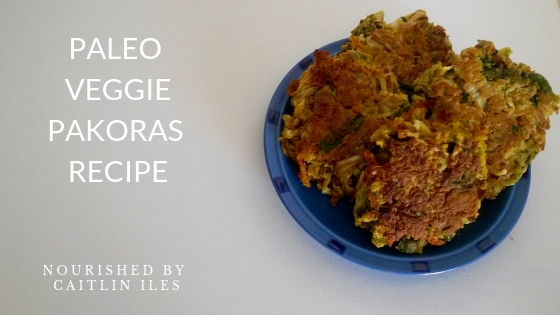 Paleo Veggie Pakoras Recipe
This recipe is packed with flavour, nutrients, and the healing power of herbs and spices. They taste great with my Tahini Yogurt Dipping Sauce!
Ingredients
1

cup

shredded carrots

2

cups

chopped spinach

kale, &/or chard, loosely packed

2

cups

shredded cabbage

loosely packed

4

green onions

chopped

1

small white potato

cubed (about ½ to ¾ cup)

1

tsp.

onion powder

1

tsp.

garlic powder

1

tsp.

ground coriander seed

1.5

tsp.

cumin

1.5

tsp.

chana masala mix or madras curry powder

1

tsp.

sea salt

4

eggs

¼

cup

coconut flour

¼

cup

tapioca starch
Instructions
Preheat oven to 350F.

Add all ingredients from carrots to sea salt in a large mixing bowl.

Using your hand combine everything until coated with spice mixture.

Add eggs and stir to combine, using a spatula or spoon.

Add coconut flour and tapioca starch and mix until combined.

Set aside for 5 minutes to allow coconut flour to absorb some of the moisture.

Set a frying pan over medium heat.

Once warmed add a couple of tbsp. of coconut oil.

Form loose balls with mixture and press flat, ensuring they're stuck together, but not too densely packed.

Add to frying pan and cook on one side for 3 to 4 minutes or until browned.

Flip and cook another 3 to 4 minutes until browned.

Place on baking sheet and put in oven for 5 to 10 minutes.

Remove and enjoy!
Well friend that's my recipe for today. Thanks for stopping by.
And if you're looking for some more plant-based inspiration in the kitchen you can try out my FREE Build Your Own Buddha Bowl Cooking Class right here! You'll receive a recipe guide, shopping list, & equipment list plus a demo on how to make Turmeric Coconut Rice, Glory Bowl Dressing, & Sweet & Salty Roasted Chickpeas. Get the class here!
As always, thank you for your love and support. Please stay safe and take care of one another!
Cait xo