Hi friend! I hope you're enjoying the first few weeks of snow and that the novelty hasn't worn off quite yet. We just got our first dumping of snow a couple days ago so I'm still loving the magical blanket of whiteness over everything (except my driveway…).
Something about the chilly snow weather makes me want to eat pancakes pretty much every day. However, I'm super sensitive to sugars and simple carbohydrates so the regular version doesn't really work for me unless I want to end up puffy and broken out.
I bought a giant bag of almond flour at Costco, which has been hiding away in my freezer for the past coupe of months as I've experimented with different recipes. Some of them have been super delicious and successful, like these pancakes, and some ended up as total kitchen failures (I made some muffins the other day that burned on the outside and literally never cooked in the middle. It was something!).
I find the combination of almond flour with a small amount of tapioca flour/starch gives these pancakes an awesome fluffiness and texture that's about as close to the original as my brain can remember. They also freeze and reheat well so they make an awesome batch-cooking breakfast idea!
Feel free to get super creative with toppings and/or fillings! I put a note in the recipe where you can add some chocolate chips or blueberries to take your breakfast to the next level. Enjoy!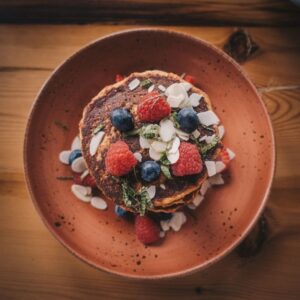 Grain-Free Almond Spice Pancake Recipe
These pancakes are the perfect grain-free option to help you enjoy the decadence of a weekend treat, without compromising your blood-sugar balance or health.
Ingredients
Wet Ingredients
1

super-ripe banana

3

eggs

1

tsp.

vanilla

4

tbsp.

coconut milk

2

tbsp.

coconut oil
Dry Ingredients
3/4

cup

almond flour

1/4

cup

tapioca flour

1

tsp.

ground cinnamon

2

tsp. 

ground ginger

1/8

th tsp. ground cardamom

1

tsp.

baking powder

1/4

tsp.

sea salt
Instructions
Preheat a large frying pan over medium heat.

Using egg beats or a small food processor whip together all the wet ingredients EXCEPT coconut oil until smooth.

Add all dry ingredients to a bowl and stir together.

Pour wet ingredients into dry and mix together thoroughly.

Add 1 tbsp. coconut oil to frying pan and let it melt.

Using a 1/4 cup measure place 3-4 pancakes in the frying pan and let cook until several bubbles start to appear on the top of the pancake. Feel free to add some chocolate chips or blueberries to the top of the pancake here!

Flip and cook another minute or so.

Remove from heat, top with fresh fruit, syrup, and any other topping you enjoy!
Well friend, that's the recipe I've been absolutely obsessing over lately! If you're looking for another tasty holiday breakfast idea then make sure you check out my Ginger Spice Granola Recipe right here! 
Have a beautiful day!
Cait xo