Hi friend! I hope you're enjoying the beauty of winter and getting outside when the temp rises to soak in some of the magic of nature. Sometimes in the midst of winter I get the craving for a food that is simultaneously rich and hearty, but also fresh and bright. That's where this dressing comes in!
It combines the creaminess of tahini with the fresh tartness of lemons to create the perfect, dippable, spreadable, and saladable sauce.
Lemons are an incredibly potent healing food and I recommend that all of my clients start their day with a glass of lemon water. But why stop there?
They have powerful antioxidant and cardio-protective benefits thanks to their phytonutrient content, making them an affordable powerhouse to add to your diet. Not only do lemons contain their own AOs but they're also a fabulous source of vitamin C, which helps raise blood levels of our master antioxidant glutathione.
This molecule is crucial not only for antioxidant protection, but also for nutrient metabolism and cellular activities such as proper immune response. Adding lemon juice to our dressings, tea, veggies, water, desserts, and soups is a great way to supercharge your body and immune system!
Sesame seeds are a fabulous source of calcium and manganese, two nutrients that help you build strong and resilient bones. Not only does sesame help with bone building, but it also decreases the pain associated with osteoarthritis, providing you with a one-two punch of bone-loving support.
These tasty little seeds also contain two types of lignan fibres called sasamin and sesamolin, which may help prevent the development of heart disease and inflammation in the body. Since inflammation can be at the root of a whole host of chronic diseases, such as metabolic syndrome, it's incredibly important that you fill your diet with as many anti-inflammatory foods as possible.
You can never go wrong by adding foods that are rich in antioxidants, phytonutrients, vitamins, and minerals to your diet. They are the foundation of a healthy body and a healthy life! Try adding this sauce to rice bowls, wraps, salads, and stir-fries to take your health to the next level.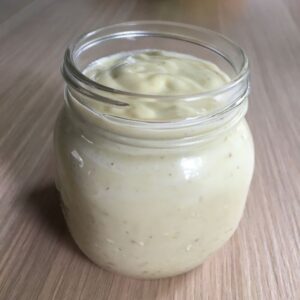 Easy Vegan Tahini Lemon Salad Dressing Recipe
Whip up this super easy salad dressing to go with all your favourite summer salads!
Keyword:
vegan salad dressing
Ingredients
1

lemon

zest and juice

1

clove

of garlic

minced

1

tbsp.

Dijon mustard

1/4

cup 

apple cider vinegar

1/3

cup

tahini

2

tsp.

maple syrup

1/2

cup

olive or avocado oil

sea salt to taste
Instructions
Combine lemon, garlic, mustard, apple cider vinegar, tahini, and maple syrup using a whisk or immersion blender until smooth.

Slowly whisk or blend in oil of choice.

Season with sea salt and place in refrigerator to set or use straight away.
Recipe Notes
This dressing tastes even better the next day and lasts seven to ten days in the fridge.
Well friend, that's my tangy recipe to help you beat the winter blahs. And remember, if you need any extra support to help you feel strong and healthy, make sure you download my FREE Anti-Inflammatory Meal Plan & Shopping List right here! 
Cait xo