Hi friend!! It's almost that time of year where it's socially acceptable to eat lots of treats and spend lots of time with family. Sometimes when you switch to a whole foods diet it can be hard to find delicious snacks to nibble on when you're out and about at different events. You can alway follow my Holiday Survival Guide to help offset some of the effects of the holiday season, but another great way to ensure you can snack while still making sure you feel great in the morning is to bring your own treats!

This Tahini Walnut Magic Bar Recipe is the perfect balance between sweet, salty, savoury, and creamy. Plus they're jam packed full of omega-3 fats that help modulate the inflammatory response in the body and lots of fibre, protein, and healthy fats to keep blood sugar balanced. The secret ingredient that makes these treats so delectable, however, is cocoa butter, one of my very favourite foods!
This fat actually comes packaged with cocoa in a pod before getting separated and sold as separate items (am I the only one who finds this slightly mind boggling?). Cocoa butter contains saturated fat, mostly in the form of stearic and palmitic acid, which is necessary for building cell walls and providing the body with energy.
Far from being the evil cause of heart disease, a meta-analysis (read the abstract here) conducted on 21 studies that looked at the connection between saturated fat and heart disease showed that saturated fat had no causative roll in the development of CHD, CVD, or stroke.
A far more likely culprit of these issues is chronic inflammation, which is associated with diets high in refined carbohydrates, inflammatory fats and oils (such as hydrogenated and trans fats, vegetable oils, and rancid polyunsaturated fats), and high levels of poorly managed stress.
Back to the health benefits. Cocoa butter also contains the monounsaturated fat, oleic acid, which is often found in olive oil and has actually been shown to have cardioprotective benefits! Finally, it is high in a compound called cocoa mass polyphenol (CMP), which from what I've gleaned from various studies and articles is an antioxidant that is protective against the formation of various cancer cells and again can help prevent CVD.
This action is likely linked to its regulating effect on T-cells (an important part of your immune system) and can help lessen symptoms of immune-modulated body imbalances such as fibromyalgia, psoriasis, and chronic fatigue syndrome.
Alrighty, now that I've fully justified the existence of this delicious treat, let's get to the recipe!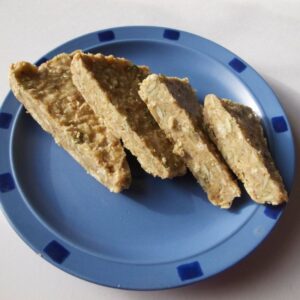 Vegan Tahini Walnut Magic Granola Bars Recipe
This recipe combines the decadence of cocoa butter with protein-rich walnuts, tahini, pumpkin, and sunflower seeds to create the perfect crunchy granola bar for when you're on the go.
Keyword:
Vegan Tahini Walnut Granola Bar Recipe
Ingredients
3/4

cup

cocoa butter

1

cup

tahini

1

tsp.

vanilla

1.5

cups

walnuts

2/3

cup

sunflower seeds

2/3

cup

pumpkin seeds

1/3

cup

coconut palm sugar
Instructions
Heat a double boiler over medium heat.

Line a pie plate or brownie pan with parchment paper.

Add cocoa butter, tahini, and vanilla to the double boiler. Once melted stir to combine.

As the cocoa butter is melting, blend walnuts in a food processor until it achieves a flour like consistency. Don't worry about getting rid of all the chunks and don't blend too long or it will turn into walnut butter.

Remove walnut flour from food processor and set aside.

Place sunflower and pumpkin seeds in food processor and pulse until roughly ground.

Stir walnuts, sunflower and pumpkin seeds, coconut palm sugar into tahini cocoa butter mixture.

Once thoroughly mixed, press flat onto pie plate or brownie pan and sprinkle with sea salt.

Place in fridge or freezer to set for about an hour.

Can be cut into shapes or broken into pieces.

Serve and enjoy!
Well that's the delightful recipe for today my friend.
If you need any extra support on your health journey, I've put together a FREE 7-Day Anti-Inflammatory Meal Plan & Shopping List that you can download right here. 
I hope you have a very merry holiday season filled with friends, family, food, and fun! As always, thank you for your love and support!
Cait xo