Hello friend! I hope you're having a lovely week. Today I want to share a recipe for one of my favourite meals: Thai Green Curry!
This one is packed with veggies and uses a great green curry paste that you can get at virtually any Asian food market (if you're in Saint John/Rothesay area check out Freshville; I love it! It's the only place in the city I've been able to find green papaya and all kinds of amazing spices to make flavourful dishes like this Pho. Plus they're locally owned which is always a plus!).
While the ingredient list may look somewhat intense, most of the list is all about building and layering the flavours that make Thai food so inherently delicious and naturally health-supportive. Herbs and spices, which are abundant in Thai cuisine, are some of the most potent foods on the planet in terms of antioxidants, micronutrients, and all those little cofactors that support health that we sometimes tend to forget when all we're thinking about is macronutrient (carbs, protein, fats) ratios.
I did add a little something that is almost certainly not used traditionally: nutritional yeast. And the reason I've included it is because it provides a really rich umami flavourful plus some extra b vitamins and a bit of protein for my plant-based baes. But if you don't have any on hand, don't worry. Add a couple extra splashes of tamari and you will still have a delicious meal!
I didn't include any chicken, tofu, shrimp, etc. in the original recipe as a protein source, but you can easily throw in whatever you prefer at the same stage as the veggies at the end if they're already cooked (chicken, tofu, etc) or cook really quickly like the shrimp. You can also make this your own by throwing in whatever is in season, so don't be tied to the veggies I've included. You have fresh cherry tomatoes from the garden? Throw em it! Don't like broccoli? Use something you do enjoy! Make this recipe your own 😀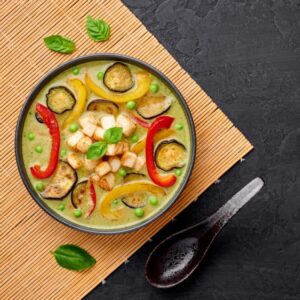 Spicy Thai Green Coconut Curry Recipe
This deliciously spicy, creamy, & flavourful curry dish is packed with veggies, healing herbs & spices, & satiating coconut milk to create a filling meal any day of the week!
Keyword:
Healthy Thai Green Curry Recipe, Paleo Green Curry Recipe, Veggie Green Curry Recipe
Ingredients
1

eggplant, cubed

1

zucchini, cubed

1

tbsp.

olive or avocado oil

1/2

tsp.

each sea salt & pepper

2

tbsp.

coconut oil

2

tbsp.

green curry paste

you can add extra if you want!

6

cloves

garlic, minced

1/2

tsp.

ginger, minced

1

stalk

lemongrass, chopped into 1 inch pieces & smashed

1

white onion, diced

1

can

full fat coconut milk (about 2 cups)

3

cups

chicken or veggie broth

can use water if needed

1

tbsp.

tamari

1

tbsp.

fish sauce

optional

1

tbsp.

rice vinegar

1

tbsp.

coconut palm sugar

1

tbsp.

nutritional yeast

4

kaffir lime leaves

1

tsp.

sea salt

1

cup

green or long beans, cut into 1 inch pieces

1

head

broccoli, cut into florets

1

red pepper, cut into strips
Instructions
Preheat oven to 400F & line a baking sheet with parchment paper. Toss eggplant and zucchini in olive oil, salt, & pepper. Spread into single layer on baking sheet & roast for 20 mins until browned. Remove from oven & set aside.

While eggplant & zucchini are cooking, place a large saucepan over medium heat.

Add coconut oil to the saucepan and once melted add curry paste. Let the curry paste toast a couple of minutes. It will start to brown, bubble, and stick to the bottom of the pot. This is good news!

Once curry paste is toasted add garlic, ginger, lemongrass, & onions to the pot & stir to combine. Allow to brown an additional 2-3 minutes. Stir in coconut milk and 3 cups of water or broth.

Once mixed together stir in rice vinegar, tamari, fish sauce, coconut palm sugar, nutritional yeast, kaffir lime leaves, & salt.

Cover and bring to a gentle boil then reduce to a simmer 15 minutes. Taste & add extra salt if needed. Stir in broccoli, green beans, red pepper, zucchini, and eggplant five minutes before serving.
Recipe Notes
Optional garnishes: lime wedges, fresh chopped cilantro, green onions, fresh mint, sriracha.
Feel free to add chicken, tofu, shrimp, or any other protein you'd like! Just add in at the same time as broccoli, etc. at the end. 
Serve over Turmeric Coconut Rice for an extra antioxidant punch!
Well friend, that's my recipe for today! I hope you enjoy it. And I just published a great little guide with my Top Ten Tips to Banish Belly Bloat, which you can download right here if you need a little extra digestive support!
As always, thank you for your love and support. Please stay safe and take care of one another!
Cait xo