Hi friend! Today I'm back and full of beans! Actually, full of eggplant, but the sentiment is the same. For our recipe I'm sharing my famous Roasted Red Pepper and Garlic Baba Ganoush Recipe. I can totally say it's famous because my friend Kari asks me make it for her regularly. And the other week when she and her roommate were out for snacks they got some baba ganoush and he said it wasn't nearly as good as mine. So yeah, totes famous!
While this recipe may seem time consuming, it actually takes like 30 minutes to make, most of which is baking time during which you could watch an episode of your favourite show, read a couple articles on the interwebs, or play a few rounds of trivia crack with your friends. Win win!
Anyhoo, the version I made most recently of this ganoush is slight different from the one below as I didn't have my usual spices and so I added an extra roasted red pepper and used smoked paprika as my seasoning instead of all the other spices below. It turned out pretty tasty, so if you're looking for a variation that's another way to go. Without further ado, here's the recipe!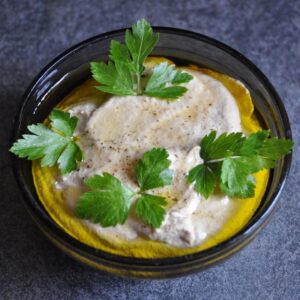 Best Roasted Red Pepper & Garlic Baba Ganoush
This vegan & paleo friendly recipe takes baba ganoush to a whole new level with roasted red peppers, roasted garlic, smoked paprika, and delicious spices!
Ingredients
1

large eggplant

1

red pepper

6

cloves

garlic

1

tbsp.

olive oil

½

tsp.

coriander seed

¼

tsp.

garam masala (optional)

½

tsp.

smoked paprika

1

tsp.

cumin

¼

cup

tahini

1

lemon, juiced

1

tbsp.

olive oil

1

tsp.

maple syrup

¼

tsp.

sea salt
Instructions
Preheat oven to 400F and line a baking sheet with unbleached parchment paper.

Cut ends off of eggplant then cut in half lengthwise.

Cut top off of red pepper and remove seeds and stem. Cut in half and keep the top fleshy part.

Separate garlic cloves, but keep the skins on.

Pour olive oil over eggplant, red pepper, and garlic, coating completely and laying flat on a baking sheet. Lay egg plant and pepper flesh side up.

Roast in oven until skins of pepper and eggplant are browned and puckered, approximately 30 mins. Don't be afraid to really roast them; it deepens the flavour. The garlic may soften around 10 to 15 minutes, so you may want to remove it first.

Remove from oven, place in metal bowl covered with saran wrap for 5 minutes.

Remove skins from veggies and place in a mixing bowl.

Add coriander seed, paprika, garam masala, cumin, tahini, lemon, olive oil, and maple syrup to the bowl and puree using a handheld blender. If you don't have one, throw everything in a food processor or blender and go that route.

Taste and add sea salt until it sings on your tongue.

Let sit at least 1 hour in the fridge. Tastes best if left overnight!