Hello friend!
With the beautiful summer sun shining down on us I've been a little less consistent with my recipe posting, but I managed to whip one up to share this week that I think you'll enjoy.
Most of my recipe creations are born out of specific cravings that I have for literally no reason. My Grain-Free Snickerdoodles (one of my most popular recipes) came about because one night I was like "I want a snickerdoodle" even though up to that point I'm not sure I had ever even tasted one before. So I googled what a snickerdoodle was to confirm, yes, it was what I was craving and then I got to work making a grain-free recipe. My brain is weird, but I'm very happy with the final result!
This recipe has a similar origin story. I was watching some shows one night and thought "damn, I really want a shortbread, but I want it to have lemon like those weird little cookies I used to get at McDonald's when I was a kid." Shortbread reminds me of my nana, because she always had a giant tin of them at her place and I would snarf them down whenever we went to visit.
These cookies are little different than the ones I used to have at nana's as I was craving something a little lighter and less dense than the Scottish shortbreads she always had. These ones are light and crisp and tend to melt in your mouth. If you like them a little softer you can take them out of the oven when the middles still look a little soft. Otherwise you can let them go for 30-45 minutes to get your ideal crispness level!
If you don't have tapioca flour/starch (they're the same) you can use arrowroot or potato flour/starch instead. You could even try cassava flour though it might give a slightly crisper and less melty texture. I hope you like them!!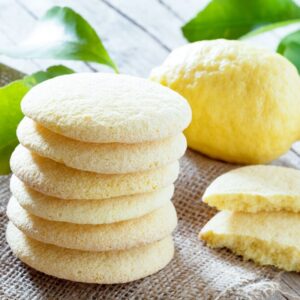 Grain-Free Vanilla Lemon Shortbread Cookie Recipe
These melt-in-your-mouth cookies are grain-free, paleo-friendly, & packed with delicious flavour! Made with a blend of almond & tapioca flour for a perfect soft and crispy texture.
Keyword:
Healthy Gluten-Free Shortbread Cookie Recipe
Ingredients
Wet Ingredients
2/3

cups

organic butter

1

tbsp.

vanilla

1/2

lemon, zest & juice

2/3

cups

coconut palm sugar
Dry Ingredients
1.5

cups

almond flour

1

cup

tapioca flour or starch

they're the same thing

1

tsp.

baking powder

1/4

tsp.

sea salt
Instructions
Preheat your oven to 300F and line 2 baking sheets with parchment paper.

In a small bowl mix together dry ingredients then set aside.

In a separate mixing bowl combine butter, vanilla, lemon zest & juice, and coconut palm sugar. Whip with your mixer until a paste forms.

Stir dry ingredients into wet ingredients until fully combined. You may need a couple extra sprinkles of tapioca if your lemon was especially juicy.

Spoon cookie batter onto baking sheets (about 1 heaping tbsp. of mixture per cookie) and leave 2 inches or so between each cookie.

Place in the oven and bake until edges are slightly golden and the middle is set. This will take approximately 30 minutes. I like mine slightly squishy in the middle, so if you want them crisper add another 5-10 minutes.

Remove from oven and let cool on baking sheet 5 minutes. It's important not to move GF baked goods immediately after taking from the oven as they need to set. After 5 minutes, move to a cooling rack.
Well friend, that's my recipe for today! I hope you enjoy it. And I just published a great little guide with my Top Ten Tips to Banish Belly Bloat, which you can download right here!
As always, thank you for your love and support. Please stay safe and take care of one another!
Cait xo