Hello friend! I hope you're enjoying the slow crawl into Spring! We've had a few really lovely days that are carrying me through some of the cloudier, rainier, colder days. Summer is my favourite season since I get to swim outside pretty much every day and I am trying not to wish my life away, but super excited for those days to come!
In the meantime, I've been working with some really incredible new clients, helping them make sustainable habit changes to support their health concerns ranging from Non-Alcoholic Fatty Liver Disease to Menopause to Chronic Stress and everything in between. I'm a researcher at heart (hello former English Lit nerd!), so digging into the current research about nutrition, supplementation, and lifestyle shifts that can help my clients achieve their goals is what I nerd out on super hard! I'm currently taking new clients for April, so if you're interested you can check out my 1:1 coaching package right here!
We're also in the third week of my inaugural round of the Foundations of Nutrition Group Coaching program I developed and it has been filling my heart with joy to connect with these folks week by week (and daily!) and seeing the small habits they have been incorporating that will pay off huge dividends in the long run! I'm planning on running another session soon, so keep your eyes peeled!
The reason I'm sharing all of this info is because today's recipe was actually inspired by my work with my clients! They are always looking for quick and easy breakfast ideas that are packed with protein, healthy fats, complex carbs, and fibre to help keep their blood sugar stable and start their day off feeling satiated and satisfied!
These breakfast bars are grain-free and use a base of almond butter (feel free to sub your favourite nut butter!) to create a chewy delicious, not too sweet treat to start off your morning! I often pair mine with a delicious elixir such as this Halva Hot Chocolate for a really decadent, but totally nourishing, start to my day!
I don't have a huge sweet tooth so I used macadamia milk (the Milkadamia brand from Costco is SO good!) as opposed to maple syrup. But if you want to make them a little sweeter feel free to use maple syrup or honey instead. I also used half a cup of chocolate chips and then sprinkled a few extras over the top. If you want to add a little extra protein and healthy fats, then feel free to stir in some chopped walnuts and/or hemp hearts. I know that's not everyone's jam though so I made them optional extras.
Enjoy!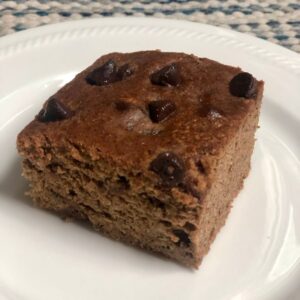 Grain-Free Chocolate Almond Banana Breakfast Bar Recipe
This recipe uses a base of almond butter, plus bananas, chocolate chips, cinnamon, & chia to create a decadent protein & fibre rich morning breakfast bar!
Keyword:
Grain Free Banana Breakfast Bar Recipe, Healthy Breakfast Bar Recipe
Ingredients
Wed Ingredients
2.5

med-large

super ripe bananas

1

cup

almond butter, smooth

1

egg

1

tsp.

vanilla

1/3

cup

macadamia or almond milk OR maple syrup*

see note
Dry Ingredients
2

tbsp.

chia seeds, ground

1

tbsp.

cinnamon

1

tsp.

baking powder

1/4

tsp.

sea salt
Add Ins
1/2

cup

chocolate chips- + extra to sprinkle on top
Optional Add Ins
1/4

cup

hemp hearts

1/4

cup

chopped walnuts
Instructions
Preheat oven to 350F and grease an 8x8 baking pan.

In a mixing bowl, use an egg beater to combine banana, almond butter, nut milk or maple syrup (depending on your sweetness preference), vanilla, and egg until smooth.

Once combined, mix in dry ingredients until no lumps remain.

Stir in 1/2 cup (or more- measure this with your heart!) chocolate chips and optional add-ins if using.

Spread into baking dish and sprinkle with a handful of chocolate chips.

Place in oven to bake about 20-25 minutes, or until a toothpick comes out clean. If you undercook them a little they keep a gooey centre, so again this is all up to preference!
Recipe Notes
* I prefer mine a little less sweet, so I just use the bananas and chocolate chips for sweetener and use a nut milk to make up the extra liquid. If you have more of a sweet tooth use maple syrup or honey instead! Just make sure it is a liquid sweetener. 
Well friend, that's our recipe for today! I hope you enjoy it. And if you're looking for some more inspiration in the kitchen you can try out my FREE Build Your Own Buddha Bowl Cooking Class right here! You'll receive a recipe guide, shopping list, & equipment list plus a demo on how to make Turmeric Coconut Rice, Glory Bowl Dressing, & Sweet & Salty Roasted Chickpeas. Get the class here!
As always, thank you for your love and support. Please stay safe and take care of one another!
Cait xo