Hello friend! Lately I have been super obsessed with soup and this one in particular. I am not exaggerating when I say that I ate it 5 times last week and currently have another batch of broth simmering away in my Instant Pot!
Ever since moving back to the East Coast I haven't been able to find anywhere in my hometown that has the funky, spicy, herby, amazingness that defines a classic bowl of pho. So I decided just to make my own! After snapping the process to friends they asked me to write them up the recipe, which of course means I have to share it here!
As you can see from the ingredient listing, this soup is a super power when it comes to nutrition. It's packed with herbs and spices that help support your immune system, it's full of collagen and healing amino acids thanks to the bones in the broth, and you can use the base to flavour any soup you'd like.
I highly recommend investing in an Instant Pot if you haven't already done so as it makes this process incredibly easy and fast: set it and forget it! Right now it's 40% off on Amazon and would make the perfect gift for your special someone, especially if that special someone is yourself ;).
If you don't have an Instant Pot, I've included directions both for the stovetop and slow cooker, so don't worry, I've got you covered.
Now, without further ado, here's the recipe! Enjoy 😀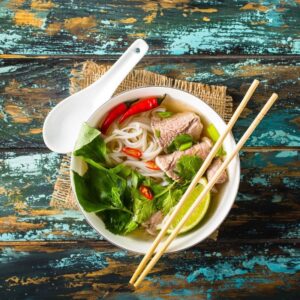 Flavourful Pho Broth Recipe
This recipe takes a little more time and effort than some of my other recipes, but the rich flavour profile and healing nutrition packed into this bowl makes it so worth it!
Ingredients
1

lb.

beef or chicken bones

1

white onion

1

bulb garlic

6

inches

ginger

6

star anise bulbs

1

tbsp.

whole fennel seeds

½

tsp.

whole cloves

¼

tsp.

ground nutmeg

1-2

tsp.

cardamom pods

4

cinnamon sticks

or 1 tsp. ground cinnamon

1

tbsp.

whole black peppercorns

Optional: 1 tbsp. red chili flakes

½

cup

fish sauce

1

tsp.

sea salt

1

tbsp.

maple syrup

8-10

cups

of water
Instructions
Set oven to broil.

Cut onion into half then into quarters, keeping the skin on.

Break apart the bulb of garlic and smash each clove, keeping the skin on.

Cut up the ginger into small chunks and smash with the flat edge of your knife.

Place bones, garlic, onions, and ginger into a large cast iron frying pan and under the broiler.

Stir with a spatula every couple of minutes. You are looking for some burning of the skins and browning of the bones and aromatics.

While aromatics are broiling gather your spices and tie into a small piece of cheesecloth or tea bag. Add to your large stockpot, crock-pot or Instant Pot.

Once aromatics are blackened and browned, about 5-10 minutes depending on your oven, add to your pot.

Fill your pot with water and add fish sauce, sea salt, and maple syrup.
a. Instant Pot:
i. Place the lid on the pot and set the dial to "Sealing."

ii. Set the pot to manual and put the timer to 40 minutes.

iii. When finished let the steam release naturally (unless you're in a hurry for dinner, in which case you can release the pressure).

iv. Strain and season to your tastes. If the broth is really strong I will thin it with water as needed.
b. Crock Pot:
i. Set to high and let simmer 6-8 hours.

ii. Strain and season to your tastes. If the broth is really strong I will thin it with water as needed.
c. Saucepan on the Stove:
i. Bring to a boil, covered.

ii. Once boiled reduce to simmer for 6-8 hours.

iii. Strain and season to your tastes. If the broth is really strong I will thin it with water as needed.

11. Store broth in mason jars in the fridge. If freezing make sure you leave one inch of space at the top to prevent jar explosions. Broth lasts about a week in the fridge.
Recipe Notes
Instead of bones, I will often break down a whole chicken and braise it in the broth. This still gets all the minerally, flavoured goodness out of the bones, but also allows you to cook your meat at the same time. Once cooked, remove the chicken from the broth and sear in a hot frying pan. Pull the meat apart and add to your pho soup!
So that's how we make some really flavourful broth! Now keep reading if you want to learn the tips of how to put together your perfect bowl!
Build Your Bowl
These are just suggestions! Feel free to add extra veggies, herbs, spices, tofu, whatever floats your boat!
Ingredients
1

small onion

1

tsp.

olive or coconut oil

1

bulb garlic

1

serving rice or black bean vermicelli noodles

Pinch

sea salt

Palm sized piece of frozen sirloin steak

1 serving of braised chicken from above, or your favourite sausage meat, rolled into small balls.

3

green onions

Handful of cilantro

Handful of mint

2

lime slices

Hot sauce or chili oil
Instructions
Heat a small frying pan over medium.

Cut the stalk end off your onion, then cut it in half and peel the skin off, leaving the root end of the onion attached.

Slice into half moon shapes and add to frying pan with oil, stirring every couple of minutes.

Peel and roughly chop garlic. Set aside until onions start to brown.

Add garlic to onions, stirring to combine.

Cook another 2-3 minutes until garlic and onions are caramelized then turn the heat off, and cover with a pot lid. Set aside.

Fill a small saucepan with water and a couple pinches of sea salt. Cover the pot and bring to a boil.

Once boiling, add noodles and cook 2-3 minutes.

Strain noodles and add to a large soup bowl.

While noodles are cooking, shave your beef with a mandolin into thin strips and set aside. Or you can pull apart the braised chicken from above or roll your favourite sausage meat into small balls.*

Chop up green onions, cilantro, and mint. Add to the soup bowl.

Add onions to the soup bowl.

Pour as much pho broth as you want into the bowl, then squeeze one or two slices of lime juice in, season with hot sauce, and enjoy!
Recipe Notes
If using sausage balls you will want to cook them for a few minutes in the broth prior to serving.
Well friend, that's the recipe for today! I hope you enjoy it. And remember, if you need any extra support to help start 2019 feeling strong and healthy, make sure you download my FREE Anti-Inflammatory Meal Plan & Shopping List right here! 
As always, thanks for your love and support!
Cait xo