Hello friend! I hope you're having a beautiful fall! I've been loving the warmish weather and sunshine we've been having for the most part and really leaning into the slight chill by drinking lots of tea and wearing lots of giant sweaters.
And of course, by eating lots of delicious snacks!
If you've ever met me, then you know that my favourite store on earth is Costco. Not only do they do awesome work supporting farmers transitioning to organic practices, they also pay their employees a living wage AND THEY HAVE EVERYTHING YOU COULD EVER NEED IN ONE PLACE! 
Last week on one of my regular trips I noticed that they got bulk bags of hazelnuts in stock for the unbelievable price of $12.99/900g, So obviously I had no self-control and had to buy them.
But it turned out great because this delicious recipe was born: Chocolate Hazelnut Avocado Pudding! It basically tastes like those fancy chocolates everyone gives as hostess gifts, without the junk and gluten. Instead, this one is packed with healthy fats from the avocado, hazelnut, and coconut. It's also got tons of vitamins and minerals, such as potassium, from nature's multivitamin: the avocado. Basically I'm saying that you can eat this dessert for breakfast and feel no guilt 😉 At one of my cooking classes last week we may have dipped these brownies in a similar pudding… 
Now I put measurements in this recipe, but I want to encourage you to measure these things with your heart! Do you want it super chocolatey? Add more cacao! Want it creamier? Add more hazelnut and coconut milk! Sweeter? You add that extra splash of maple syrup boo!
I've also included the easy-peasy recipe for Hazelnut Mylk at the bottom. You can jazz that up with any flavourings that you like. If you can afford the insane price of vanilla at the moment, it tastes amazing with a couple nice fat dates and a splash of vanilla.
Now without further ado, your recipes!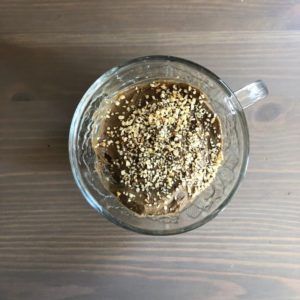 Chocolate Hazelnut Avocado Pudding Recipe
Keyword:
Chocolate Avocado Pudding Recipe, Healthy Chocolate Pudding Recipe,
Ingredients
2

avocados

ripe

1/4

cup

raw cacao

1/4-1/2

cup

hazelnut* or coconut milk

*see recipe below

1/4

cup

maple syrup

1

tsp.

vanilla

1/4

tsp.

sea salt

1/2

cup

hazelnuts

ground
Instructions
Place avocado, raw cacao, hazelnut or coconut milk, maple syrup, vanilla, and sea salt in the food processor or blender and blend until smooth.

Divide into 4 small bowls and let chill in the fridge (1 hour) or freezer (30 minutes).

Top with crushed hazelnuts and enjoy!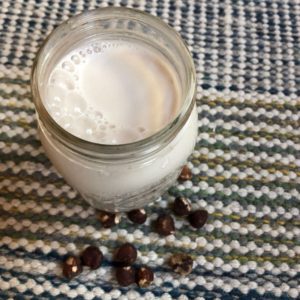 Hazelnut Mylk Recipe
This quick and easy recipe is a great way to make your own nut mylk, avoiding all the fillers and preservatives of store-bought brands. You can also jazz it up with herbs, spices, chocolate, dates, and/or vanilla to make something truly magical!
Ingredients
1

cup

hazelnuts

soaked for 6 hours

2

dates

pitted

pinch

sea salt

3

cups

water

filtered
Optional Add Ins: Spiced Hazelnut Mylk
1/2

tsp.

cinnamon

1

tsp.

fresh ginger

pinch

cardamom
Optional Add Ins: Chocolate Hazelnut Mylk
Instructions
Soak hazelnuts and dates for 6 hours or overnight.

Strain and rinse the nuts and dates and add to blender. If using optional ingredients, add them here!

Pour in 3 cups of water (more to make it thinner, less to make it creamier).

Blend on high speed for 2 minutes or until there are not more large chunks of nuts or dates.

Place nut mylk bag over a bowlso that the edges are held up.

Pour the mixture into the nut mylk bag, close it, then squeeze the bag until as much liquid as possible is removed. Save the pulp for energy balls or baking!

Pour the nut mylk into a clean glass jar and store in the fridge 5-7 days.
Well friend, that's the recipe for today! I hope you enjoy it. And remember, if you need any extra support to help you feel strong and healthy, make sure you download my FREE Anti-Inflammatory Meal Plan & Shopping List right here! 
As always, thank you for your love and support!
Cait xo