Happy New Year! I hope you're having a wonderful 2019 so far and that you have taken some time to rest and replenish your energy after the craziness of the holidays. If you need a little support getting back on track, I have a great Post Holiday Survival Guide post right here! This article has plenty of easy-to-incorporate tips to help you feel healthier, calmer, and ready to take on the new year!
A huge part of starting your day feeling energized and focused is eating a well-balanced breakfast packed with protein, healthy fat, and fibre. This frittata is packed with anti-inflammatory fats from smoked salmon, tons of liver-supporting nutrients from the onions and garlic, and choline and B vitamins for brain support from the eggs. Plus it just tastes delicious!
It's super easy to pull together too: just caramelize the onions and garlic, whisk everything together, and pop it in the oven while you go take care of your morning routine. It's also great to make ahead so that all you have to do on busy mornings is pop it in the frying pan to heat up while you get ready. I don't recommend microwaving it as eggs tend to get a little gross in the microwave.
Now to the recipe!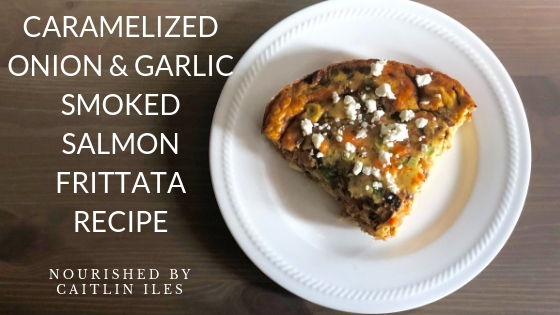 Caramelized Onion & Garlic Smoked Salmon Frittata with Goat Cheese
This recipe is perfect to make ahead and reheat throughout the busy workweek for a decadent, delicious, and nutrient-rich start to your day. You can also wow your friends at brunch with your amazing frittata skills!
Ingredients
1

tbsp.

butter or olive oil

2

white onions

sliced into half moons

1

bulb garlic

roughly chopped

8

eggs

1

bunch green onions

sliced

200

grams

smoked salmon

cut into bite-sized pieces

150

grams

goat cheese

pinch

of sea salt and pepper

butter or oil to grease the pie plate
Instructions
Preheat oven to 350F and grease a 9 inch pie plate liberally with butter or your favourite oil.

Begin heating a large frying pan over medium heat.

Cut the top off your onions, leaving the root end attached. Place the onions flat edge down on a cutting board and cut in half. Remove peel and cut into half moon shapes.

Add oil to frying pan and coat thoroughly then add onions. Stirring to cover in oil. You may want to add a pinch of sea salt here. It works best if you cover the frying pan at this stage.

While onions are cooking, roughly chop garlic then add to frying pan.

Continue stirring onions every couple of minutes while you prep the rest of your ingredients.

In a large mixing bowl whisk together the 8 eggs until light yellow and fluffy.

Add green onions, smoked salmon, and crumble in the goat cheese. Stir to combine and add salt and pepper.

Once onions are caramelized (a dark brown), remove from heat and stir into egg mixture.

Pour into the pie plate, place on a baking sheet, and bake for 30 minutes or until edges are golden brown and centre is firm.

Remove from oven, let cool a couple of minutes then cut into 8 even slices.

Serve with extra goat cheese, avocado, cilantro, green onion, or any other garnish you'd like!
Well that's my protein-packed, anti-inflammatory breakfast to help you start your day off with balanced energy. If you're looking for even more motivation when it comes to your self-care,make sure you download my FREE Anti-Inflammatory Meal Plan & Shopping List right here!
As always, thank you for your love and support! All the best for a fabulous year!
Cait xo