Hi friend! I hope you're having a beautiful week. Today I want to share with you a recipe I created after my water kefir exploded and leaked through my floor into the suite below me while I was at the beach the other day. Luckily nothing was damaged, but I still felt bad about the inconvenience and utter weirdness of having pink juice leaking through your ceiling. Thus this recipe was born!
I wanted to make them some delicious cookies as an apology and saw that I still had some oatmeal and chocolate chips leftover from a cooking class. Having rarely made oatmeal cookies before, I thought this would be a good time to turn spilled kefir into an opportunity for creativity.
Even though you're making a treat, I still think it should leave you feeling healthy and strong, not tired, sick, or bloated afterwards. That's why by making just a couple simple tweaks you can take your cookie game to the next level!
These cookies swap out inflammatory oils and shortenings for healthy coconut oil. You'll also be ditching the crappy white sugar in favour of a rich maple syrup and super yum brown rice syrup to help keep blood sugar stable. But don't worry if you can't find the BRS, you can just swap for all maple syrup or add some honey!
A quick note: if you have celiac disease or are incredibly sensitive to cross-contamination make sure you buy certified GF oats. I like the Only Oats brand. Enjoy!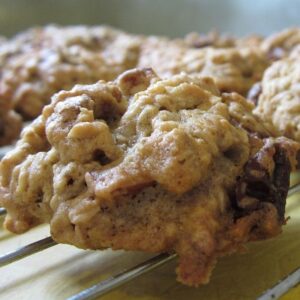 Ingredients
Dry Ingredients
1

& ¼ cup + 1 cup oatmeal

1

tsp.

baking powder

½

cup

tapioca starch

2

tbsp.

coconut flour

2

tsp.

cinnamon

¼

tsp.

sea salt

½ to 1

cup

chocolate chips
Wet Ingredients
½

cup

coconut oil or organic butter

1

cup

maple syrup

½

cup

apple sauce

2

eggs

replace with chia eggs to make it vegan*

2

tsp.

vanilla
Instructions
Preheat oven to 350F.

Line two cookie sheets with parchment paper and set aside.

In a small food processor grind 1 & 1/4 cup oatmeal with baking powder and tapioca starch until a flour-like consistency is achieved.

Pour in a mixing bowl and combine with the coconut flour, cinnamon, and sea salt. Set aside.

Add wet ingredients a bowl and whip together with egg beaters. You can also add to a food processor and blend until smooth.

Pour wet mixture into dry mixture, mixing until fully combined.

Stir in remaining oatmeal and chocolate chips.

Use a large spoon to drop mixture onto a baking sheet. Don't worry if it's a little bit runny.

Bake for 10 minutes then check. If edges are golden brown, remove from oven and place on cooling rack. If not browned, return to oven for another 3-5 minutes until browned.

Enjoy!
Recipe Notes
To make a c

hia egg: 1 tbsp. chia, ground + 1/4 cup warm water per egg. Mix together and set aside for 2 minutes then use as you would the egg in a recipe.
Well friend, that's our delicious and nutritious cooking indulgence recipe for today.